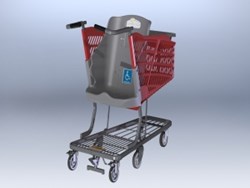 Caroline's Cart is good for families, good for the community, and good for grocers.
Naperville, IL (PRWEB) August 31, 2013
Grocery stores are always looking for ways to provide a positive shopping experience for everyone. A memorable shopping trip is valuable for businesses, as it keeps customers happy and gets them returning to the store. Traditional electric shopping carts are designed for handicapped shoppers, but what about special needs children who are not doing the actual shopping? The answer can be found in Caroline's Cart, a specialty grocery cart that accommodates the needs of children with disabilities.
Parents and caregivers of special needs children find it difficult to shop when taking care of their child. One major challenge is that the child may be too big for the standard kiddie seat, especially if the child is older. Caroline's Cart solves this problem with a specially designed seat for children of many sizes.
Designed with a 5° titled seat, adjustable harness, and seat abductor, Caroline's Cart aids in stabilizing handicap children so that parents no longer have to maneuver a shopping cart, and sometimes also, a wheel chair at the same time.
Features:

Seat faces caregiver, allowing for easy eye contact
Handles swing open to provide easy access to seat
Bottom rack provides footrest for the child
5° tilted seat aids in stabilizing low muscle tone children
Harness secures child to the seat
Dependable braking system
250-pound weight limit
Bottom grid designed to hold more product
Ample cargo basket provides space for purchased items, including hooks on the side for hanging bags
Abductor in the seat helps keep the child upright
Caroline's Cart alleviates concerns in the shopping center by providing a cart this is specialized to meet the unique needs of families with special needs children. Caroline's Cart is becoming increasingly popular and supplies of the cart are limited. The carts can be purchased at Shoppingcartmart.com.
Caroline's Cart is good for families, good for the community, and good for grocers.
About ShoppingCartMart.com
ShoppingCartMart.com is a leading provider in grocery store shopping carts, equipment and accessories and is headquartered in Naperville, IL.