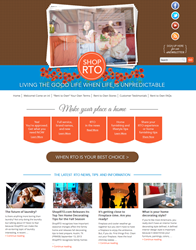 ShopRTO.com's popularity has risen 244% since its launch in February.
Austin, TX (PRWEB) September 27, 2013
The national board of directors for the Association of Progressive Rental Organizations (APRO) endorsed the progress of ShopRTO.com at their annual meeting in Indianapolis, IN on September 26th.
ShopRTO launched in February of 2013 is now in the listing of 23 keyword search terms ranging from "home furniture" to "rent to own". The website was created to offer affordable home furniture and family budget tips for Americans looking to provide the best home for the family under a tight income.
"The number of visitors coming to ShopRTO or any other branded term has increased by 244.44%," states Kanan Group owner Joel Caserez, a website company specializing in website SEO.
APRO is the national trade association for the rent to own industry. They sponsor ShopRTO as a vehicle to present the rent to own home furniture industry as a viable option to furnish and budget for the family home.
According to market studies, more than 50% of Americans know very little or nothing about the rent to own option when shopping for home electronics, appliances, furniture and computers. ShopRTO wants to help build the image of the rent to own being a transaction that serves all consumer needs from renting the TV for the big game, buying used home furnishings or renting to own for the home.
The site reflects the evolution of rent to own stores being home lifestyle centers rather than just renting HDTVs, couches and such.
The site also brings rent to own and the national trade association to the forefront of marketing to Generation Y or the millennials who are much more attracted to renting home furnishings and also expect more from industries and websites. That is why ShopRTO is more about the best ways to furnish a family home within a budget rather than a rent to own commercial.
About ShopRTO.com:
ShopRTO provides affordable home decorating and lifestyle tips for Americans and when rent to own may be right for their home shopping choices.