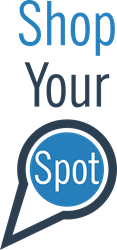 Indianapolis, Indiana (PRWEB) August 21, 2014
http://www.shopyourspot.com A new Indianapolis-based company is putting a unique spin on the world of mobile deal apps. Shopyourspot, LLC, announces the launch of a ground-breaking approach to the free mobile deal app. Shop Your Spot can now be downloaded in the Apple App Store and on Google play.
Shop Your Spot merchants pay a minimal, flat monthly subscription fee and keep 100% of their revenue, which is a breath of fresh air compared to the huge revenue share models of other popular deal sites. Shop Your Spot is considered a cutting edge marketing tool which lets merchants have complete control of their offers from start to finish. Rather than waiting on edits and approvals from the deal site, merchants can easily create and submit their own offers allowing customers to take advantage of deals in real-time. Additionally, merchants are provided with detailed analytics, giving them an undeniable advantage in future planning compared to other marketing channels such as direct mail and print advertising. Merely one month into the launch of Shop Your Spot, merchants are seeing, on average, a 25 percent offer redemption rate, far exceeding the 3-5 percent redemption rates of traditional printed coupons.
"Shop Your Spot is a great mobile marketing app that has everything under one umbrella for your business marketing needs. You, the merchant, control your own offers, customers that flagged your store as a favorite get notified and once the redemption takes place, you can see all of your statistics easily on the merchant dashboard. Hats off to the Shop Your Spot team for introducing such a wonderful new marketing tool!" Matt Stillwell, H&H Management
For consumers, Shop Your Spot provides a completely new approach to purchasing. In times when most people are searching for the best deals in hopes to save a dollar, Shop Your Spot delivers the first collaborative site to bring dynamic, real-time deals together in one easy to navigate mobile app. Shop Your Spot's precise profile building system ensures consumers receive only the deals that are important to them; products and services they want from the retailers they choose. Nearly 5,000 consumers have downloaded Shop Your Spot and are currently taking advantage of the best deals from their favorite merchants.
"Shop Your Spot has introduced me to local merchants that I didn't even realize were in the area. I have been able to take advantage of great deals from new merchants as well as unique offers from my long-time favorite stores." Brian Morris, Shop Your Spot User
Shop Your Spot currently has more than 120 merchants in 46 cities and six states, including Indianapolis, Akron, Anderson, Avon, Bargersville, Bluffton, Boonville, Brownsburg, Carmel, Columbia City, Culver, Danville, Decatur, Evansville, Fillmore, Fishers, Fort Wayne, Frankfort, Franklin, Greenfield, Greenwood, Knox, Kokomo, Martinsville, Medaryville, Noblesville, North Judson, Rochester, Syracuse, Trafalgar, Wabash, Walkerton, Warsaw, Winamac, Wolcott, Zionsville, Burr Ridge, Illinois, Lincolnshire, Illinois, Warrenville, Illinois, Greenville, Kentucky, Louisville, Kentucky, Bloomfield Michigan, Sturgis, Michigan, Cincinnati, Ohio, Columbus, Ohio, and Pittsburgh, Pennsylvania. The company expects aggressive growth in the upcoming months by adding a multitude of merchants in several additional cities, maximizing the Shop Your Spot experience for both the providers and consumers.
Shop Your Spot is being led by President, Stephanie Taylor. Taylor has more than 15 years of experience in project management and P&L, as well as building teams of successful sales reps in Indianapolis and the surrounding areas.
"As an offer exhausted consumer, I am confident that Shop Your Spot will successfully rebuild the damaged relationship between merchants and consumers. It's all about control. Merchants have the power to respond to consumer needs immediately. Consumers only receive the offers they want." Stephanie Taylor, President, Shop Your Spot
Shopyourspot, LLC was founded June 1, 2014, with offices located in Indianapolis, Indiana. Learn more about Shop Your Spot by viewing Our Story.