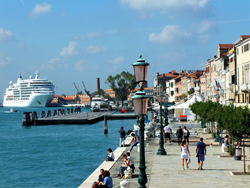 When it comes to designing shore excursions, one of our main goals is our customers timing needs. Depending on the docking location we suggest not to plan activities that will take them more than 2 hours by car away
Chicago, IL (PRWEB) June 30, 2015
About 80% of the Italian peninsula is bordered by the sea making many Italian destinations easily accessible by water. As a consequence, cruise or yacht trips are certainly among the best options for travelers that wish to experience Italy by sailing its seas. To not miss the highlights of Italy while cruising and fulfill tourist's timing needs and interests, Select Italy (http://selectitaly.com) designed a set of superior and highly customizable one-day shore excursions from the major Italian ports.
Select Italy's shore excursions are available from the major ports-of-call in Civitavecchia (Rome), Livorno (Florence, Pisa), Venice, and Naples (Amalfi Coast, Sorrento, Capri); as well as the minor ports in Liguria (Genoa and Portofino), Campania (Amalfi and Sorrento), and Sicily (Palermo, Trapani, Catania). Select Italy's portfolio of shore excursions include:

The excursions are highly customizable, allowing travelers to see what they wish, and include professional local guides and well-organized private transfers from and to the port.
"When it comes to designing shore excursions, one of our main goals is our customers timing needs. Depending on the docking location we suggest not to plan activities that will take them more than 2 hours by car away," says Michaelanne Chapel, Senior Sales Consultant at Select Italy. "Customizable excursions offer many advantages and allow travelers to have plenty of free time before heading back to the port to embark."
The entire portfolio of shore excursions can be found on the company website. For more information about Select Italy travel products, visit selectitaly.com or send an email to info(AT)selectitaly.com.
About Select Italy
Select Italy® is The Ultimate Source for Travel to Italy® and offers a wide array of superior Italian travel products and services, including customized itineraries, state-of-the-art tours and packages, wedding/honeymoon trips, unique culinary classes, a complete pre-departure ticketing service for museums and musical events, private guided services, yacht charters, transportation, hotel reservations, villa bookings and more. Through a vast network of suppliers and cultural contacts, anything and everything you need for optimum travel to Italy is possible with Select Italy. Based in Chicago with an office in New York and Shanghai and support staff in Italy, the company has expanded its offerings and travel services to the Balkans with the launch of Select Croatia®.