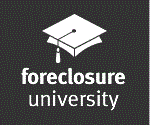 We know there is a great opportunity right now for short sales
Salt Lake City, UT (PRWEB) August 01, 2013
There is a new short sale video that has just been released by Foreclosure University that is causing quite the buzz within the real estate community. Investors new to the short sale process now have an outline by which they can use to get a short sale approved.
According to RealtyTrac, who tracks foreclosure rates, claims in it's recent U.S. Residential Sales Report, that short sales (where the sale price is below the combined total of outstanding mortgages secured by the property) accounted for 14% of all residential sales in June, up from 8% a year ago. This means that more and more foreclosures are going through the short sale process and being sold to individuals before the auction.
This is great news for the investor who understands how to do a short sale. This new video outlines the necessary steps in order to do a successful short sale. "We know there is a great opportunity right now for short sales," says Jake, a spokesman for Foreclosure University. "This is one way we can help in the housing recovery."
The short sale video explains what necessary steps are needed in order to get a short sale approved. First the homeowner signs the authorization letter giving the investor the right to negotiate with the bank.
The bank will then send them a short sale packet or workout packet which contains all the necessary requirements the bank needs in order approve the short sale. This would include things like a hardship letter, bank statements, tax returns, w-2's, listing agreements, etc.
The short sale packet is then taken to the homeowner to complete. After completion, the short sale packet is sent back to the lender and now begins the waiting process for the approval. While waiting, typically a buyer is found and in many cases a backup buyer. This is because the approval process could take several months and buyers back out.
Most investors use transactional funding to fund their short sale deals. This is because the fee's are low, it's quick, easy and there are no hassles with income or credit checks.
For those looking for more information on short sales or the short sale process can visit ForeclosureUniversity.com