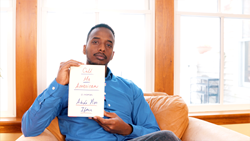 From time to time, my friends and family talk about their first impressions of America, the mistakes they made, and how they navigated through a new country when we gather for parties and events. That's what I wanted to capture with this project
LOS ANGELES (PRWEB) January 10, 2019
What is coming to America like? That's the question filmmaker Roman Debotch wanted to answer when setting out to make her short documentary film, "Coming to America, For Real". Especially, what is coming to America like for a black immigrant?
As an immigrant herself, Roman has always been fascinated by conversations about the trials and tribulations of coming to America, getting accustomed to the culture and language, and then chasing and living the American dream. For her documentary, she had this conversation with three other immigrants: Abdi Iftin of Somalia (Abdi was the subject of an episode of the popular podcast "This American Life"), Laura Silva of Colombia, and Justin Rayside of Barbados.
"Coming to America, For Real" is streaming now on YouTube. You can watch it here. You can read the article based on the documentary here.
All of the immigrants, including Roman, came to America at various ages and have had similar and also very different experiences.
"This is a short documentary I have been wanting to make for a very, very long time," said Roman Debotch. "From time to time, my friends and family talk about their first impressions of America, the mistakes they made, and how they navigated through a new country when we gather for parties and events. That's what I wanted to capture with this project."
In an episode titled "Abdi and the Golden Ticket", Abdi became famous among listeners of "This American Life". The episode follows him in Kenya, where he is a refugee from Somalia who wins a Diversity Lottery to come to America.
The life changing news was one Abdi dreamed of for years, but actually realizing the dream would prove challenging. Facing and winning these challenges, Abdi arrived in Maine in 2014. In this documentary, he shares his experiences as an immigrant in America.
The documentary was produced by blackexcellence.com.
For more information on this documentary, contact Jarett Horton at info(at)blackexcellence(dot)com.