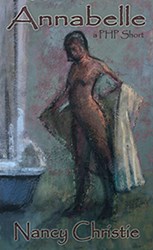 [Annabelle] is fragile in the way that Kafka's protagonists are fragile... unlike Kafka's stories, Nancy Christie's tales are always beautiful. - Morrow Wilson
(PRWEB) February 17, 2014
Nancy Christie's short story eBooks "Alice in Wonderland" and "Annabelle" have been so well received and critically acclaimed that her publisher, Pixel Hall Press has decided to release a collection of her short fiction: "Traveling Left of Center and Other Stories" in both print and eBook formats this summer.
A LITERARY TOUR DE FORCE
Each of the eighteen stories in "Traveling Left of Center" is a literary tour de force, a microcosm of life seen through the wrong end of the telescope. The protagonists are people who, by accident or design, lack a normal vision or understanding of what the world is or who other people really are. Unable or unwilling to seize control over their lives, they allow fate to dictate the path they take—often with disastrous results. Disturbed, yet highly creative in how they approach their distorted vision of life and reality, they find themselves traveling left of center, as they confront life situations for which they are emotionally or mentally unprepared. Their methods of coping range from the humorous ("Traveling Left of Center") and the aggressive ("The Clock") to the passive ("The Healer") and hopeful ("Skating on Thin Ice").
Nancy Christie's brilliance of capturing the mind and mood of these damaged souls makes for fascinating, visceral reading.
"Traveling Left of Center and Other Stories" will be published in Summer, 2014, Reviewers should contact Cynthia Dadson (cynthia (at) pixelhallpress (dot) com) to be put on the list to receive an Advanced Reader Copy (ARC). If you are interested in being a Beta Reader of the prepublication book, please fill out the Contact Form on the Pixel Hall Press website.
CRITICAL ACCLAIM FOR CHRISTIE'S SHORT STORIES
Here are only a few of the many praises from critics and readers that Nancy Christie's short stories "Alice in Wonderland" and "Annabelle" have received. (Both stories will be among the eighteen included in "Traveling Left of Center and Other Stories.")
"[Annabelle] is fragile in the way that Kafka's protagonists are fragile... unlike Kafka's stories, Nancy Christie's tales are always beautiful." ~ Morrow Wilson, author and actor
"This spellbinding short story will mesmerize the reader with powerful character development and a tale sadly familiar to many women. It's hard to imagine anyone who will not read this excellent book through on the first attempt." ~ Charles S. Weinblatt, NY Journal of Books
"...what Christie has accomplished in such few pages, some cannot do in a hundred, which is ... a testament to her beautiful voice as a storyteller." ~Michelle Bowles, reviewer and blogger
ABOUT NANCY CHRISTIE
Nancy Christie is a full-time professional writer for publications and corporate clients, but fiction is her passion. As she explains, "I have been making up stories since I was a child, engaging in 'what if' and 'let's pretend' activities that took me far beyond my northeastern Ohio home. And I'm still doing it—only for a much larger audience!"
In addition to her two PHP Shorts e-books, "Annabelle" and "Alice in Wonderland", her short stories can be found in literary publications such as Full of Crow, Fiction365, Red Fez, Wanderings, The Chaffin Journal and Xtreme. Christie is currently working on several other book projects, including a novel and a book for writers.
A member of the American Society of Journalists and Authors, Nancy teaches workshops at writing conferences and schools across the country and hosts the monthly Monday Night Writers group in Canfield, Ohio. Visit her website at NancyChristie.com or connect with her on her writing blogs: Finding Fran, The Writers Place and One on One.
ABOUT PIXEL HALL PRESS
Pixel Hall Press is a relatively new, old-fashioned small publishing house that is quickly becoming known for discovering literary gems and great stories that might have otherwise been overlooked.
In this era of digital technology, Wall Street involvement and merger mania, mainstream publishers seem to have lost sight of the core principles and purpose of publishing. At the other end of the spectrum is an avalanche of self-published books that are notoriously uneven in quality. Small boutique imprints, such as Pixel Hall Press, are reclaiming the heart and soul of publishing by reviving the idea that a publisher's raison d'être is to find and nurture great writers, and to provide readers with beautiful, meaningful, truly enjoyable books.
In addition to publishing its more traditional full-length books in both print and eBook formats, Pixel Hall Press has launched a new imprint: PHP Shorts. PHP Shorts publishes stand-alone short stories and novellas as eBooks.