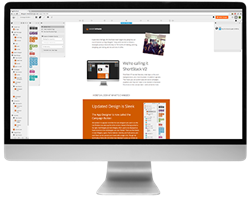 Our customers told us that they wanted the ability to use ShortStack everywhere, not just Facebook, so we listened.
Reno, NV (PRWEB) June 26, 2014
After three years of being a self-service software platform that businesses use to publish custom Facebook Page apps, ShortStack has revamped their platform to be a tool that businesses can use to create Campaigns that can be published anywhere online, in addition to Facebook. ShortStack Campaigns are mobile and desktop friendly.
"In the last year we've seen a shift in our user base. Social Media has really grown up and Facebook is no longer the only game in town. Our customers told us that they wanted the ability to use ShortStack everywhere, not just Facebook, so we listened," said Jim Belosic, CEO, ShortStack. "Businesses have realized that the meaning of a Facebook "Like" has depreciated and that leads are the most valuable thing businesses can collect from their online audience. So far our users are excited about the option to publish Campaigns beyond Facebook."
ShortStack has been working on the revamped product for 18 months, but there's also been a big shift in the company's philosophy. ShortStack's Campaign Builder is a platform-agnostic tool, meaning businesses are not tied to hosting their campaigns on Facebook. With the company's Campaign Builder businesses can create contests, sweepstakes, data-collection forms and more. Each has their own URL that can be used as a standalone website, or be placed on social sites like Facebook.
The revamp comes at an ideal time, now that many businesses are struggling to find the success they've had in the past on Facebook. In the last several months, Facebook has made numerous News Feed algorithm changes that have brought Pages' organic post reach from around 12 percent down to as little as 1 percent. While many businesses have wanted to move their campaigns off of Facebook, this feat has required multiple software tools depending on where the business wanted to place their campaign. ShortStack solves the problem by allowing businesses to place their Campaigns on a site that they can link to from anywhere on the web.
Some businesses already using this strategy, including Wells Fargo and McDonald's; both are running promotions where landing Pages are hosted on the companies' Websites.
"Businesses have been using 'landing Pages' for years," said Belosic. "However, they've needed developers and coders to place their designs online. With ShortStack's Campaign Builder we're removing the necessity of a Web or developer guy. Once a Campaign is built, it can easily be published online and promoted through other channels."
Business owners continue to use ShortStack to run promotions and newsletter integrations, build welcome pages, quizzes, polls, display their RSS and Twitter feeds and offer coupons, discounts and menus.
"All of the power of ShortStack is still there, but now there are even more features and tools for businesses to use in their online marketing," said Belosic.
ShortStack's Campaign Builder is free to try. When users sign up for ShortStack they receive full access to the platform and all of its features. Once a Campaign is ready to publish, the user can publish for up to one hour before being prompted to pay a monthly subscription. Prices range from $29/month to $499/month.
About ShortStack
ShortStack helps Marketers create contests, collect customized data from their visitors and increase the size of their audience on Facebook and around the web. ShortStack campaigns can be installed wherever – to Facebook, websites and blogs, and they're even viewable on mobile devices. To learn more about ShortStack, visit http://www.shortstack.com.