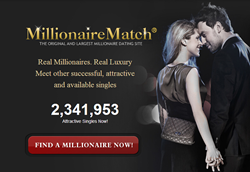 Los Angeles, California (PRWEB) July 01, 2015
Award-winning website MillionaireMatch.com is delighted to announce that their wealthy members have a new hot topic of interest: "Should two people live together before marriage?" Members of MillionaireMatch.com, including Hollywood celebrities, beauty queens, CEOs of top companies, doctors, lawyers, entrepreneurs, investors, fitness models, athletes and many more, are posting their thoughts to the website's forum.
On "whether two people should live together before marriage," MillionaireMatch members are discussing the pros and cons. The liberal forum allows members to share their opinions freely, come up with insightful comments regarding the matter, and help others posed with a similar query. One of the members who supported such relationships stated that "it is the only way to know a person well and cope up with each other's flaws and good sides." Thus the site sets the field for healthy communication and debates.
Unlike other mainstream dating sites in the market, Millionaire Match is concerned with only the world's super elite and attractive singles and is responsible for matches made in heaven. Since 2001, Millionaire Match has sincerely helped highly successful people find suitable dates, meaningful relationships and lasting and fulfilling marriages, and thereby live the beautiful lives they've always dreamed of. With over 2 million attractive singles and counting, positive testimonials and excellent customer reviews, Millionaire Match has the potential to revolutionize online dating.
For more information regarding the current discussion, the dating app or the MillionaireMatch.com website, visit their official website or download the app in the App Store or Google Play Store.