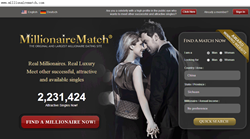 Los Angeles, California (PRWEB) February 05, 2015
Relationships seem to place women in all kinds of pickles. They wonder whether to make the first move. They wonder whether to allow that kiss or to initiate it. They wonder if they are coming on too strong or if they are showcasing a lack of interest. They can't help but wonder if they are moving too fast, too slow or just right. While we're on the subject of moving, some women can't help but wonder if they should always move to where the man lives when things get serious. On MillionaireMatch.com, this question is being put to the test. Many are weighing in and sharing different thoughts and attitudes about this issue. One main thought along these lines is that if it's true love, this issue should be a non-issue.
As a commenter on the site pointed out, today's woman could be a homeowner with plenty of job security. It's true that owning property may place her in a more permanent situation. Without a home and career, she might be more free to break a lease or wait for it to expire and then pack up and fly to her love. But those with property and an established career can't help but wonder if the man should join her, especially if her situation is more cushy than his.
If a man is a true alpha male, meaning the one most dominant in a group, he might not want to move to where the woman lives. Sometimes, even if all he has to offer is a shack and some leftover Skittles, he may wish to have his love come move in with him. Women who would have to give up too much comfort and convenience may balk at this notion.
It's true that someone has to be flexible and both have to compromise. If the love is flowing the right way, it's critical that a decision be made as to how to get both people under one roof. Those who value the relationship won't allow it to end over the issue of who moves and who stays put. However, if one party has to move, it would only seem fair that the other party make some concessions for that to happen.
Meanwhile, a few members on MillionaireMatch.com still hold to traditional values. They believe that a woman should follow the man, that he should be the leader and main breadwinner. With this being the case, these select few will definitely see the merits of having the woman move to be with the man. In the minds of those who follow tradition, this doesn't require a second thought, whatever the circumstances are.
What if one of them is more adventurous or adjusts more easily to change? This is what one person on the luxury dating site brought up. It would seem that there should be some room for the personalities to come into play when this decision is being hashed out. If he is a back-packing, nomad type of guy with no roots, maybe he should be the one to move.
There's also this dynamic that is present in the lives of most people. It's called family. If one of them is part of a close-knit family that lives in the same city, he/she should probably not be the one to make the move. It may seem likely that the other would hate to tear his love away from their family, and would capitulate and move to be where "they" are instead.
One of the best responses on the website came from a lady in California who wrote, "The couple should do what is most practical for them and their situation." While that answer seems to sum it all up, for some reason, the issue gets murky and leads to all kinds of wrangling. Maybe that wrangling is part of the fun of coming together and creating a life under one roof.
To view what else is being said about this topic, visit http://www.millionairematch.com/topic_vote?topic_id=1101.