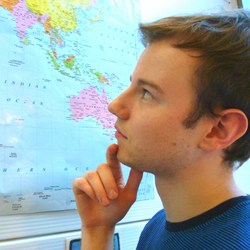 The best personal attributes for successful overseas volunteers are: listening skills, adaptability, ability to work as a team, willingness to learn from others, proactive nature, and understanding of others.
(PRWEB) July 16, 2013
For people thinking about volunteering abroad, there is an important question worth considering: Is volunteering abroad right for me?
Considering this question upfront will help to ensure that both the volunteers and the projects are not disappointed, and both gain from the experience. Volunteering abroad can be life-changing, but it can also be quite overwhelming especially for those who haven't traveled off the beaten track much before.
So, how can someone be sure if volunteering abroad is right for him/her?
Kaya Responsible Travel outlined the consideration that all potential international volunteers should consider, before taking the leap.
Volunteering projects abroad have many benefits:
For the volunteer – Volunteers learn about new places, cultures, open up to new ideas, learn new skills and apply existing skills and knowledge towards a greater good. They make new friends, develop and change their career or change their path in life by doing something completely different. Volunteers are presented with many challenges along the way and get immersed in a different culture, family dynamic and approach to social and business situations. All of these contribute to an amazing personal experience.
For the project – Projects benefit from the skills, ideas and knowledge that volunteers bring and share with project staff, as well as hands-on help to make their projects and activities viable and sustainable. Interest and involvement in local issues by outsiders can help validate to the local community that the work is important and helps it maintain its momentum in the long-term.
For the project's beneficiaries – Volunteers improve the homes, habitats and lives of people and wildlife whose lives would not be the same without the project in place. Volunteers become a part of a solution.
To help people consider whether volunteering abroad is right for them, Kaya Responsible Travel has developed a checklist to help assess readiness and commitment to volunteering. If you find yourself experiencing any of the following internal dialog, you might consider a different experience:

"I need to leave my worries behind and get a clean start on life."
Your problems will only come with you…
"I personally plan on making a world of difference over there."
You can play a part in making a difference, but it is the combination of everyone's small efforts that make a real difference, not any single individual.
"I don't have to take my work too seriously, it's a volunteer position after all..."
While you will have time to sightsee and travel on weekends and in the evenings, volunteering is hard work and the projects need your full commitment during the working days.
Some other considerations to make when assessing if volunteering abroad is right for you are:

Are you fit/healthy enough – mentally and physically?
To take on a volunteering placement where you will be asked to travel, live and work in an environment which is very different from home, you don't necessarily have to be physically strong (many volunteers are retirees) but you will be challenged emotionally and you will need to look after yourself.

Are you willing to leave your family and friends for the period that you have in mind?
Homesickness can be a problem for international volunteers of all ages.

Are you willing to try something new?
You will be faced with daily unfamiliar situations, foods, practices and more.

Are you happy to have a police record check?
We have to protect our vulnerable communities. If you have a misdemeanor on your record, check if this affects your placement before signing up.

Are you willing to adapt to local customs in order to fit in with a different culture?
Some people think Westerners' approach is ' the right way,' 'better' or 'more advanced,' when most often it is just different. You will be expected to adapt to the local approach to fit in.

Can you cope if things don't go according to plan?
In development things can and most often do not turn out exactly as planned. Unplanned vacations, strikes, weather, emergencies and people not showing up are just some of the things that can affect each day. Even the best of plans need to be adapted. Flexibility to adapt to unexpected situations is key in volunteering.
For those who answer yes, then volunteering abroad is a great option. If your responses aren't all affirmative, maybe the timing isn't right, in which case Kaya recommends that you try volunteering in your local community before venturing overseas.
It is important to realize that volunteers are there to help and work within existing projects, staffed by local people in a local environment which will be very foreign. The best personal attributes for successful overseas volunteers are:
Adaptability and flexibility
Ability to work as a team
Willingness to learn from others
Proactive nature
Understanding of others
Listening skills
So, if you seem to pass the test and you're excited by the change you can expect in yourself that will come about while lending a hand abroad, consider volunteering abroad!
About Us
Kaya Responsible Travel coordinates volunteer abroad programs that include support, housing, project selection and execution, and social and cultural activities throughout Africa, Asia-Pacific, and Latin America. Choose from projects in conservation (environment and wildlife), education, health, community development or construction. For more information, please visit http://www.kayavolunteer.com.