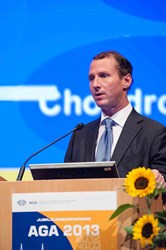 Vail, Colorado (PRWEB) November 08, 2013
Colorado shoulder specialist Peter J. Millett, MD was awarded an honorary membership to the German Arthroscopy Association (AGA). AGA is a society that fosters education on advanced surgical techniques among elite physicians from around the world. Honorary members of the Association are appointed in recognition for their special services to the field of arthroscopy.
AGA is one of the largest, most prestigious orthopaedic groups in Europe that provides a unique forum for thought leaders in the field to exchange innovative ideas. Over 1,100 surgeons attended the 2013 annual meeting in Wiesbaden, Germany. "It was a great honor for me to attend the meeting and to be selected as an honorary member of AGA," said Dr. Millett.
As a shoulder specialist at The Steadman Clinic in Vail, Colorado, Dr. Millett has researched and developed arthroscopic treatment techniques for a variety of injuries related to sports medicine. Dr. Millett lectured on his newly developed comprehensive arthroscopic management (CAM) procedure. The CAM procedure is an innovative surgical treatment for young, active patients with shoulder osteoarthritis. The procedure is performed using minimally invasive arthroscopic surgery. It removes loose and torn cartilage and decompresses nerves that are impinged by bone spurs. Dr. Millett's CAM procedure has been proven to delay total shoulder replacement for young, active patients.
In addition to Dr. Millett's lecture, he also conducted a workshop on rotator cuff repair. Here, he shared his research results on the use of advanced arthroscopic techniques to hasten recovery. Dr. Millett has been a pioneer in double row arthroscopic rotator cuff repair. Dr. Jens Agneskirschner, of Germany and the course co-chair of AGA said, "Together with Dr. Thore Zantrop (meeting co-chair), I want to say a big 'thank you' for Dr. Millett's many excellent contributions during the AGA meeting in Wiesbaden."
As the Director of Shoulder Surgery at The Steadman Clinic, Dr. Millett continues to dedicate himself to sports medicine research. "This is just another example of how the work we are doing in Vail impacts patients, doctors, and researchers from around the globe," said Millett
About Dr. Millett
As a Colorado shoulder specialist Peter J. Millett, MD specializes in disorders of the shoulder, elbow, and knee as well as all other sports related injuries. Dr. Millett's research focus includes shoulder osteoarthristis, shoulder replacement, and rotator cuff repair. Using advanced shoulder arthroscopy, and arthroscopic stabilization techniques Dr. Millett is recognized as an elite physician in the field of sports medicine. As the Director of Shoulder Surgery at The Steadman Clinic, Dr. Millett continues to dedicate himself to research and innovative treatment options.