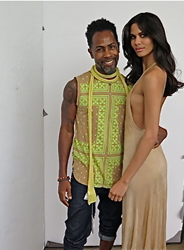 It is an honor to have my collection unveiled at an event hosted by "Empire" star Taraji P. Henson," says celebrity stylist and fashion designer Carlton Jones.
New York, New York (PRWEB) June 22, 2015
On July 23–27, 2015, fashion aficionados worldwide will converge in the British Virgin Islands for the 7th Annual Summer Sizzle BVI where trailblazing new fashion designer Carlton Jones will unveil his eponymous resort collection. Hosted by Academy Award nominated actress, Taraji P. Henson of Fox TV hit show Empire, Summer Sizzle BVI presents the perfect setting for the introduction of the Carlton Jones Resort 2016 collection, as it channels the same spirit of vibrancy and sensuality that both the island and event arouse.
Carlton Jones is not a novice when it comes to producing awe-inspiring fashion statements, as he has worked for over 20 years with various style icons, including Halle Berry, Lenny Kravitz, and First Lady Michelle Obama. Propelled by his years as a stylist, fashion director, and image consultant, Jones is now evolving his fashion sensibilities to create pieces that translate into a feeling, rather than a fleeting trend. Exuding an escapist sensation with its flowing silhouettes and exotic fabrics, the Carlton Jones Resort 2016 Collection conjures a sense of well-traveled glamour and a laissez-faire lifestyle.
"My resort-inspired collection breathes color and movement, punctuated by a day-to-night versatility," says Jones, who originally designed the collection for The Escape Boutique at The Cove in the Bahamas' Atlantis Resort. "It's equally important for me that the clothing feel as good as it looks," Jones adds.
Design details of the Carlton Jones Resort 2016 Collection range from sheer insets, asymmetric hemlines and beautiful draping to nature-infused fabrics with a subtle tropical palette. Chic cover ups, sophisticated jumpsuits, day to evening dresses, and exquisite details anchor the collection. Combined with the sheer star power that Empire's Henson will attract, Summer Sizzle BVI's ultimate signature event, the Global Glamour fashion show, serves as the ideal platform for Jones to showcase his diverse collection amongst international and Caribbean trend-setting fashion designers.
Recently, Jones tapped Dreamweaver Brand Communications as his agency of record—a relationship he believes will further solidify his foray into the world of lifestyle branding and fashion. "We are delighted that Carlton has chosen our agency to bring his brand to the forefront of fashion and celebrity events," stated Dreamweaver Brand Communications CMO Cynthia Srednicki.