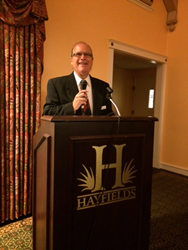 Everyone's a winner at our mock Casino Fun Nights! - Steve Phillips of Show Biz Productions
Washington, DC (PRWEB) September 30, 2014
Steve Phillips purchased Show Biz Productions from Hirsch de la Veiz in 1979. De la Veiz had been booking entertainment since the 1940's and had just begun his Casino Nights 5 years earlier. Phillips, who was 25 years old at the time, was a frustrated gambler and thought being on the other side of the table, playing for fun, was a great option for him.
With his purchase of Show Biz Productions, Steve Phillips was able to pioneer the Casino Fun Night industry in the Mid-Atlantic region, producing corporate functions, charity fundraisers and private parties. In his 35 years in business, Steve has produced thousands of successful events. He is very proud of his charitable fundraisers, saying it gives him the opportunity to support a good cause and have fun at the same time.
Show Biz Productions has won numerous awards for its events and has proven to be a leader in the industry over the 35 years. One aspect that makes their events so successful is Steve's background in working in a real casino. Steve is able to personally train his staff, many of whom have also worked in casinos, giving these events an air of authenticity. Show Biz Productions also has a top line of casino-caliber equipment, unmatched by any in the area.
As the company is continuing to grow, they are proud to announce an addition to their management team. Tony Bennett has recently joined the team as the Vice President of Sales and Marketing. Tony is currently working on receiving his MBA from Ashford University and brings to the team his technological expertise and an excellent track record in sales. Tony is very excited to apply his sales experience, along with Steve's extensive knowledge and skill in the Casino Fun Night Industry, to expand their client base and better serve their customers.
About Show Biz Productions:
Show Biz Productions, a 35 year old premier Casino Fun Night company, provides the best and most professional casino entertainment in the Washington, DC, Baltimore-Metro area. The company also provides props, decor, entertainers, and just about anything imaginable for your next special event. For more information visit http://www.showbizproductions.com