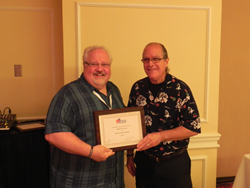 We are very proud to receive this award and to be recognized for our achievements. - Steve Phillips, Show Biz Productions
Washington, DC (PRWEB) September 18, 2014
Show Biz Productions, a casino entertainment company that produces Casino Fun Nights for corporate events, charitable fundraisers and private parties, is proud to announce that they have won the award for the "Best Small Production Under $10,000" at the Annual NACPO Convention held at the Monte Carlo Resort, in Las Vegas, Nevada.
NACPO, The National Association of Casino Party Operators, is an association of roughly 50 casino party producing companies throughout the United States. Each year the association recognizes the companies that provide the most spectacular special events with awards at their annual convention.
The event that won the award for "Best Small Production Under $10,000" this year was a corporate event held in Maryland. The client was very interested in their guests learning to play the various casino games, as well as learning basic strategies and table game etiquette. The team at Show Biz Productions was hand selected for their skills in explaining and teaching the guests. The guests left the event entertained, educated, and some left as prize winners.
Winning the award for "Best Small Production Under $10,000" is not the first time Show Biz Productions has been recognized at the convention. In 2013, Show Biz Productions received the award for the "Best Large Production over $10,000" and had one of their team members, Saundra Phillips, recognized as "Croupier of the Year". These awards prove that Show Biz Productions has the ability to execute both large and small events, and also recognizes that their staff are some of the best Croupiers and Dealers available in the Casino Fun Night Industry.
About Show Biz Productions:
Show Biz Productions, a 35 year old premier Casino Fun Night company, provides the best and most professional casino entertainment in the Washington, DC, Baltimore-Metro area. The company also provides props, decor, entertainers, and just about anything imaginable for your next special event. For more information visit http://www.showbizproductions.com