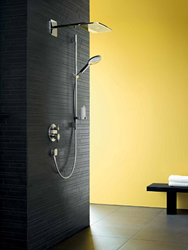 In 2014, shower enclosures are becoming less and less closed, with thick doors and curtains being replaced by elegant glass shower walls or even no walls at all.
(PRWEB) January 31, 2014
HomeThangs.com – the Online Home Improvement Store has made their goal to deliver the right product to the consumer. With that in mind, shopping and home design tips, as well as special product selections are being introduced.
Deluxe showers blend the luxurious experience of a spa with the convenience and speed needed for a hectic lifestyle. In 2014, many homeowners are turning their attention to luxury showers rather than bathtubs or whirlpools, focusing on big, bold, spa-like designs to create elegant, sun-soaked spaces. HomeThangs.com has introduced a guide to some of the more innovative and daring designs that will be showing up this year.
Frameless Shower Doors
2014′s shower trends put a strong emphasis on bright, natural light, barrier-free floor plans, and open, airy spaces in general. The simplest example is the steadily rising popularity of frameless showers. Now, this trend is really nothing new, but it's becoming more and more ubiquitous for homeowners to upgrade to shower enclosures that are made nearly entirely out of glass. These make the bathroom look larger, giving an uninterrupted view of the space, and have a clean, seamless appearance.
Curbless Showers
Many homeowners are going even a step farther to get a truly barrier-free look. Instead of just eliminating the metal hinges and rails that hold together the walls of a shower enclosure, they're also eliminating the curb at the foot of the shower, often tiling the entire bathroom floor – shower and all – in the same tile. This seemingly simple change is both more elegant and more accessible than a conventional design.
Barrier-Free Showers
Many homeowners are doing away with shower doors and shower enclosures entirely, opting instead for totally barrier free showers that are open to the rest of the bathroom. Without any glass or tile walls to separate it out, these open showers have no limit on elbow room and can make a bathroom feel wide and open. With this barrier free layout, it's important to be aware of water splashing and ensure everything in range of the shower head is waterproofed and that the tile floor is slightly graded to prevent water from pooling.
Wet Bathrooms
A natural extension of these barrier free showers is the wet shower. These are showers that incorporate other waterproofed bathroom fixtures, like a bathtub, toilet, or sink, and generally come in one of two forms. In a smaller bathroom, the entire bathroom can be waterproofed from top to toe, allowing for a roomy, full-sized, very accessible shower in the space of a very small bathroom. In a larger bathroom, it often means putting a luxury soaking bathtub and sometimes a sink and toilet inside a glass enclosure separate from the main dressing portion of the bathroom.
Steam Showers
One notable exception to this trend toward more and more open showers is the growing popularity of steam showers. Steam showers are designed to fill with velvety, relaxing steam. But steam needs to be well managed to prevent water damage, which means built in steam showers have to be completely enclosed on all sides, and typically have slightly lower ceilings to trap the steam as much as possible. The sides of a steam shower can be made of glass or tile, but need to be completely waterproofed to prevent the steam spilling out into the rest of the bathroom.
Walk In Shower Enclosures
Finally, the trend that runs most contrary to the popular open bathroom is the rising popularity of walk in showers. These use tile walls, often curved ones, to separate out a small alcove for the shower. Obviously, this is more of a barrier than any of the other kinds of showers listed here, but they offer a nice way to get a slightly more open feeling shower that's a little less exposed, as well as a beautiful, shapely tile accent wall.
To see some of these great trends in action, check out the full article here.
HomeThangs.com is not only a home improvement superstore, it also provides expert design tips and a comprehensive shopping guide, taking the ideas from professional interior designers, and offering tips to the consumers on how to pick the products to best suit their needs.