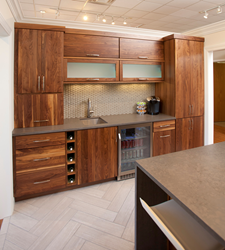 "We have product training sessions at least once a month," said Eric Brown. "They don't just know the product name, they know how our products work and why they are top rated."
Milford, OH (PRWEB) July 21, 2016
Milford Winnelson, (Milford, Ohio) is proud to announce the completion of their expanded and updated 2,500 sq. ft. showroom. Featuring a wide variety of products ranging from the standard plumbing supplies that they are so well known for, to now include bath and kitchen fixtures, cabinets, faucets, tile flooring and countertops. The idea behind this one-stop-shop is to make it easier for the homeowner and contractor who are working together on a new construction or remodeling project.
"We want our contractors to be able to bring their customers into our showroom, work with our designers and together come up with a project plan that they will love. We have all the products needed to make any kitchen or bath the room of their dreams," said owner Eric Brown.
Eric Brown has been part of Milford Winnelson Company since 2002 when he began working for the company. In 2010, he bought in when one of the owners was retiring. His background in the hardware business prior to joining Winnelson, made him a perfect fit for this business. He knows the industry inside and out and imparts that knowledge and passion to his staff.
"We have product training sessions at least once a month," Eric said. "I want our staff to know the products so well that when a customer asks about something we carry, our people can answer the question. If they don't know the answer, they will for sure know where to find it. And they don't just know the product name, they know how our products work and why they are top rated."
Milford Winnelson carries a wide selection of top-quality product lines including Master Brand cabinets, Moen, Delta, American Standard, and many more. In fact, they stock more than 7,000 items in their warehouse.
The concept of the Design Center isn't new in today's vast selection of stores which offer all types of products. But what makes Milford Winnelson unique is their customer service and industry knowledge. The idea of a one-stop-shop compliments everything they believe. "We want our contractors, who are the backbone of our business, to feel comfortable bringing their clients into the store. But we also maintain the highest business principles if a plumber is coming in here for a fitting on a bathroom sink. This is what we do and we strive to please every customer who walks in our door," Eric said.
Milford Winnelson has two designers who will work with the homeowners and the contractors. They can help create the layout the homeowner is looking for, then help them come up with exact product specifications, product selection, color, size and shape. Everything needed by the contractor to complete the job. Decision makers, whether the homeowner or the contractor, will work with the same person throughout the project—another feature that makes them unique in the industry.
For a free tour of their new showroom, Milford Winnelson invites contractors, homeowners and designers to stop in and browse their great selection of products.
While Milford Winnelson is part of a larger national organization, it is owned and employs local people and buying from them is supporting the local community and economy.
For more information, contact:
Eric Brown
Milford Winnelson
5992 Meijer Drive
Milford, OHO
513-576-1888