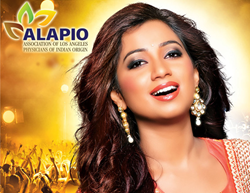 We are Physicians of Indian and South Asian origin residing in Los Angeles and surrounding areas of Southern California. As a group we would like to enhance the image of Indian Physicians in the community we live in.
Pasadena, California (PRWEB) August 08, 2014
Hindustani film music has been dominated for many years by the nightingale of India, Lata Mangeshkar. There has been a great deal of speculation about who could be considered a worthy successor to the great singer. Now music circles in India as well as critics agree that Shreya Goshal is that person. The ALAPIO event will present Southern California music lovers with a rare opportunity to judge for themselves while enjoying the incredible voice responsible for her popularity.
ALAPIO is a group of physicians of Indian and South Asian origin residing in Los Angeles and surrounding areas of Southern California. The physicians of ALAPIO believe they have benefitted tremendously from the society in which they live and have a desire to pay forward by helping their fellow citizens. About a year ago they formed a non-profit, all inclusive, philanthropic, progressive, democratic educational and service organization with the motto "Health and well-being for all". The Shreya Goshal Concert is the first fundraising event held by the new association.
Shreya Goshal started singing at the age of four. Her public recognition began in 1999 when she was 13 and won the popular SaReGaMa competition on Zee TV. Since then Shreya has won many awards for her singing in films. She has performed at the Wembley Arena in London, the Sydney Opera House and venues in New Zealand, the United Arab Emirates and the United States.
Information on sponsorship opportunities and ticket availability for this inaugural ALAPIO event can be found here. To find out more about ALAPIO, please visit http://www.alapio.org . Questions regarding the concert may be e-mailed to Alapiomed(at)gmail(dot)com.
About ALAPIO: Association of Los Angeles Physicians of Indian Origin
ALAPIO is a young, newly formed non-profit organization that was started in June 2013 with just a handful of physicians that shared a common goal of a unique organization. ALAPIO has grown rapidly in the last one year with an impressive membership from both academia and private practice.
The Mission of ALAPIO:

To provide a service oriented educational and philanthropic non-profit organization to serve the medical profession and the community at large.
The Motto of ALAPIO:
"Health and Well-being to All"
ALAPIO's Recent Contributions:

o 'Heart Disease' Speaker: Dr Jignesh Patel, Cardiologist, Cedars Sinai Medical Center, LA
o 'Role of Vitamin D in Health and Disease': Dr Sudhir Gupta, Immunologist, University of California, Irvine
o 'Stem Cells and Nanotechnology': Dr Uttam Sinha, Head & Neck Surgery, Univ. of Southern California, LA
o 'Prostate Cancer': Dr Timothy Lesser, Torrance, CA
o Future of Independent Hospital & Practice: Lex Reddy, CEO, Alecto Healthcare

Provide a social and networking platform for younger physicians, and entertainment provided by local artistes
Obtain a 501© 3 Tax Exempt Organization status with a Tax ID.
Organizing a Charity Fundraising Concert with the objective of raising funds to:
o Establish a multi-specialty free physician service to the financially underprivileged in the greater Los Angeles area
o Promote awareness and educate children and parents about health risks of childhood obesity
o Host Free Seminars and Health Fairs to promote preventive health education
Membership:
If you are a physician and would like to contribute and participate, please become a member.