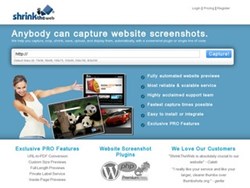 ShrinkTheWeb takes screenshot captures to the next level.
Atlanta, GA (PRWEB) December 02, 2013
ShrinkTheWeb, the leading screenshot provider, has chosen to create an explainer video to cut to the chase of exactly what they do and why they do it. Getting the right message to customers, in a captivating way, is the key to a successful marketing campaign. Their explainer video is catchy yet concise, brief but complete, and generally expresses the need for a reliable and fast website screenshot provider.
"We teamed up with WVideos, an Elance freelancer group, who provided us with a quality video that really explains what we do in a fun and intuitive way," says Brandon Elliott, CEO of ShrinkTheWeb, about their first explainer video release.
Capturing a website screenshot can be easily accomplished using readily available browser plugins or keyboard commands, but ShrinkTheWeb takes screenshot captures to the next level by fully automating the entire process. When it comes to projects that require many screenshots, it becomes increasingly tedious to screencap all those web pages and then crop them, shrink them down, save, upload, and then embed the image for display. Toss in the necessity of keeping those screenshots updated and the need for an automated system becomes obvious.
ShrinkTheWeb rises to the challenge of being a reliable and fast screenshot provider solution. Over the past few years, ShrinkTheWeb has constantly gathered feedback from users and made many strides toward innovating the service. It is the community of ShrinkTheWeb users that have been instrumental in providing the feedback and inspiration for the video content. They wanted it to be clear that web page screenshots are a quick and convenient way of enhancing a simple text link. Now, the ShrinkTheWeb explainer video goes a long way toward conveying that message.
About ShrinkTheWeb®
ShrinkTheWeb® offers a service to fully automate the capture and delivery of web page screenshots. The company was founded in 2009 and has been a driving force in the emerging automated website screenshot marketplace. ShrinkTheWeb has always held fast to the idea that website screenshots will eventually become a staple of the Internet. They will become a commonplace replacement or enhancement to simply showing a link. They are the natural evolution to linking and referencing on the web.
For more information, please visit http://learn.shrinktheweb.com.