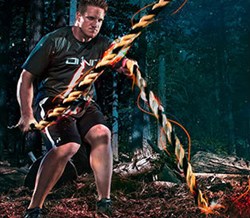 Houston, TX (PRWEB) November 27, 2013
Shroom TECH Sport that claims to be a legal, safe supplement that athletes can take on a daily basis to improve their energy levels and recover faster without having to worry that they might be contravening any drug rules has caught the attention of GentlemensUniversity.com's Stan Stevenson, prompting an investigative review.
"Based on ingredients with a history of use in high level competition that are proven to offer both general health benefits and help the body with the production of ATP, Shroom TECH Sport is a sports supplement created by Onnit Labs," reports Stevenson. "The core ingredients in this supplement are Cordyceps Sinensis rare mushroom, along with other powerful natural ingredients to help combat fatigue and therefore keep you stronger, faster and more effective – whatever your sport of choice."
The Shroom TECH Sport review shows it contains a very rare mushroom, Cordyceps Sinensis, and its potent extract, Cordyceps Super that have been scientifically proven to link to oxygen capacity and cellular energy. Other ingredients include Rhodiola, a natural adaptogen that synergizes with Cordyceps, Astragalus, the little known Chinese herb that helps magnify the effects of Cordyceps, Green Tea Extract, a wonderfully potent antioxidant called Eleuthero, another antioxidant ALA (Alpha Lipoic Acid) that helps restore glutathione in the body, Magnesium (Chelate) for muscle hydration and function, Chromium (Picolinate) to help balance and maintain blood sugar levels, and Vitamin B12 that helps everyone, not just athletes, with fatigue issues.
"While Shroom TECH Sport has been designed specifically for athletes and sports people, it's also a great supplement for body builders, and anyone who has an active and physical life. This is because the better your body fights fatigue, the more successful you're going to be at what you do," says Stevenson. "The main ingredient of the supplement, Cordyceps Sinensis, is of the very best quality available, and the use of this has been proven to help both professional and part time athletes reach the peak of their ability. Also included is Magnesium Chelate, which not only helps with ATP synthesis, but also helps reduce muscle twitches or cramps."
"Shroom TECH Sport is only made with all-natural products, which means you can safely take it during training, and on the day of competition, with no worries whatsoever that you might be ingesting any banned substances. The chelated form used in the supplement makes it easier for the body to digest and absorb. Apart from all the other positive attributes of the supplement, it also helps to stabilize the blood sugar levels in the body. If you want to get the very best from your body, and you use a large amount of physical energy on a daily basis, this could be just the supplement you're looking for!"
Those wishing to purchase Shroom TECH Sport, or for more information, click here.
To access a comprehensive Shroom TECH Sport review, visit http://gentlemensuniversity.com/shroom-tech-sport-review.