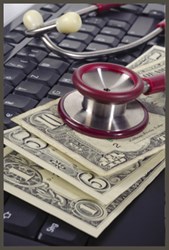 Scottsdale, AZ (PRWEB) September 10, 2013
Shufeldt Consulting, founded by John Shufeldt MD, JD, MBA, FACEP now offers expert legal services specializing in urgent and primary health care practice. Their 18 year industry experience enables clinic owners to increase patient flow and operational efficiencies through concise review of existing organization and structure.
Whether the business is new, or already established, their attorneys help to prevent unnecessary legal issues and help clients in sustaining their business, control liability and maintain compliance.
Shufeldt Consulting's team of qualified consultants has performed numerous urgent care clinic acquisitions and they understand the complex nature and multi-disciplinary approach needed to assess a practice from inception.
Some of the services they provide:
▪ Selling Urgent and Primary Care Centers
▪ Compliance Plan Review
▪ Electronic Medical Records and Practice Management Program Analysis
▪ Billing, Coding and Health Plan Contracting
▪ Policy and Procedure for Optimum Efficiency
▪ Risk Management Review
▪ Financial Modeling
▪ Acquisition Assessment and Monitoring
▪ Acquisition Analysis for Private Equity Firms
▪ Expansion opportunities
▪ Top line enhancement
▪ Health Plan Contract Review
Shufeldt Consulting consultants are experts in their respective fields and enjoy long track records of personal and professional success. They help clinic owners make well-informed business decisions that will:
▪ Increase center's efficiency,
▪ Lower its cost structure,
▪ Enhance the bottom line
▪ Improve patient safety
▪ Lower its malpractice risk
Visit Shufeldt Consulting to learn more.
About Shufeldt Consulting
Shufeldt Consulting is committed to delivering legal counsel with the highest standards of professionalism and integrity. Their team of experts has full understanding of legal issues and in the industry.
Shufeldt Consulting will customize services to the needs of their clients. Their trained staff can provide the expertise a business owner needs to increase patient flow and operational efficiencies through concise review of their existing organization and structure.