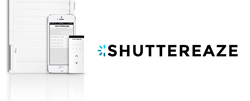 You no longer need to purchase entirely new plantation shutters to add motorization capabilities. ShutterEaze was designed to work with your existing plantation shutters
Los Angeles, California (PRWEB) October 28, 2014
Living Automation Solutions is pleased to announce the release of ShutterEaze – an innovative plantation shutter motorization unit. ShutterEaze is specifically designed as a home automation solution that will bring convenience to individuals that own plantation shutters. The product launch is currently taking place on Kickstarter, allowing interested customers to pledge their support and voice their opinion about how they would like to see the product evolve.
"While you can find a variety of products that exist to bring motorization and automation to curtains, blinds, and other window coverings," says Connor Shore of Living Automation Solutions, "you would be hard pressed to find a comparable solution for plantation shutters. Our goal with ShutterEaze was to do exactly that."
ShutterEaze provides an affordable solution for individuals wishing to add motorization to their existing plantation shutters. Until now, the only way you could automate your shutters was to either buy new shutters with motors built in, or cut into your existing shutters and add the motors yourself. ShutterEaze provides an alternative as it is designed to retrofit with all existing plantation shutters, making it easy to add automation capabilities.
Like most great ideas, ShutterEaze was born out of necessity. Jeff Vasquez, one of LAS's founders, created ShutterEaze as a way to make his wife happy. Although she loved her plantation shutters, walking around the house to open and close them on a daily basis was becoming a hassle – especially for the windows over the bathtub. ShutterEaze was born as the definitive solution to Mrs. Vasquez's dilemma.
"Purchasing entirely new motorized shutters was simply out of the question," comments Vasquez, "Plantation shutters are quite expensive already, but shutters with motorization built into the frame nearly doubles the cost. I wanted to create a solution that simply added functionality to the my existing shutters."
As a new product, ShutterEaze is still in pre-production as the company refines the design and explores additional features that will benefit users. Living Automation Solutions has created a Kickstarter campaign to raise the initial funds to manufacture and distribute a limited number of the two initial versions of the product.
ShutterEaze will offer two options for controlling your motorized shutters. The first option uses an independent remote control that allows for the individual or group control of any number of ShutterEaze motors. The second version is designed to work with smart devices using Bluetooth Low Energy and has additional features such as timed control. There are plans in place to begin development of a ZigBee solution in January, 2015. By utilizing the Zigbee protocol, the company hopes to give consumers the option of integrating ShutterEaze with existing home automation systems.
"The real goal," continues Shore, "is that ShutterEaze will become a fully-integrated home automation device that can communicates directly with other smart devices, thermostats, and the like for a seamless automation experience. The convenient and easy to use first run units are only the beginning of an exciting and even more powerful product that we plan to deliver."
The convenience of never having to manually open and close dozens of plantation shutters combined with the energy saving potential of ShutterEaze has already sparked huge interest in the company's customer base. Aside from offering people the ability to sign up for pre-orders, Living Automation Solutions has opened up their Kickstarter campaign to anyone who wishes to be the first to receive ShutterEaze, as well as add their voice and feedback to how the revolutionary ShutterEaze product should evolve.
From contributions as low as $5 up to larger distributor packages, the potential ShutterEaze consumer base is already clamoring for this new product. The Living Automation Solutions team has extended an open invitation for anyone to take a look at the Kickstarter campaign and to get involved with the next generation of home automation.
About Living Automation Solutions LLC:
Living Automation Solutions is a California-based company that specializes in the development of retrofitting solutions that allow consumers to add remote control functionality to their existing home furnishings and devices. Founded in 2014, they are currently working on the release of their patented product for plantation shutters, ShutterEaze.