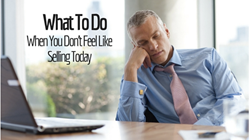 In order to succeed in sales, one must work smarter and harder, not just smarter.
Austin, TX (PRWEB) July 28, 2016
Shweiki Media is pleased to announce their latest collaboration with Ryan Dohrn—founder of Brain Swell Media, creator of the 360 Ad Sales Training system, and a globally recognized media revenue consultant. This webinar, available on Shweiki.com and on Shweiki's YouTube channel, features six strategies for salespeople to implement to reignite their passion in sales when they don't feel like selling.
The webinar focuses on the following six tactics:
-Change the environment: If one is having trouble selling, they should try looking for a new spot to work such as a coffee shop or a park, and change the scenery for inspiration.
-Go back to core training: Remember: every "no" is one step closer to a "yes." One should ask what their call-to-close ratio is, and how many meetings they should set to close that deal.
-Remember the non-sales approach: 30-40% of contact with clients needs to be non-sales related. One should find some great articles that will be applicable to everyone on the client list and then share it with clients and or prospects to maintain and nurture relationships.
-Seek out inspiration: One idea is to go online and find some inspiration such as a Tony Robbins YouTube video or read an inspirational book such as "Motivation Manifesto."
-Dress for success: This is especially important for those who work at home. One should still get in the zone by dressing as if they are going to an important meeting or interview. There's something to the idea of "fake it 'til you make it."
-If all else fails, go find some love: Sometimes it's all about the human touch, and if one is feeling down, they should try calling on parents, family members, friends, etc. to improve mood. This is another great source of inspiration.
The fact of the matter is that everyone falls off the horse now and again. It's part of the sales game, and everyone is going to have days when they don't want to sell--but it's important to fight that and keep trying to make it happen. In order to succeed in sales, one must work smarter and harder, not just smarter.
Shweiki Media's mission has always been to help publishers improve by providing the most profitable, hassle-free printing experience possible. This includes guaranteeing the highest quality product, exceptional customer service, world-class communication, an on-time guarantee, and no surprises– whether printing magazines, postcards, flyers or anything else.
As a printer and publisher, Shweiki Media also believes that this hassle-free experience includes making their clients better. Utilizing relationships with industry experts, Shweiki Media strives to educate clients and help them thrive in the exciting world of publishing–while having lots of fun along the way!
For more great info from and about Shweiki Media, please check out our blog at shweiki.com/blog (and sign up for our FREE weekly expert webinars!), and subscribe to our Youtube Channel at youtube.com/shweikimedia. You can also follow us @ShweikiMedia and "like" us at Facebook.com/shweikimedia