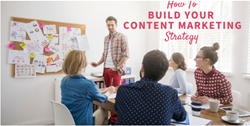 The purpose of content marketing is to earn an audience rather than buy it, attract people rather than interrupt them.
Austin, TX (PRWEB) February 23, 2016
Shweiki Media Printing Company has teamed up with Michael Brenner, CEO of Marketing Insider Group, to present a newly published webinar on how to build a successful content marketing strategy. The webinar is available on Shweiki's YouTube page and at shweiki.com.
The Brand is NOT What One Sells
In the context of marketing, consumers tune out unnecessary noise. So how does one break through the noise and get the customer's attention? Leading brands are starting to realize that, in terms of content marketing, the brand is not what one sells. The brand is an accumulation of every experience one delivers to the consumer. The content readers pay attention to is not the promotional stuff, but rather, it is the content that educates and entertains them. As brands, it's important to think of the content as the product and not the product itself.
In a world filled with vast amounts of information and content readily available, content consumers just want brands to stop. The average consumers are doing everything they can to avoid promotions in every situation. It's important to stop interrupting what people are interested in and start creating, publishing and thinking like a publisher in order to create content and experiences that people are actually interested in.
Content, today, has to compete with things like cute pictures of babies and kittens. When thinking about the kind of content one's organization is creating, one should think about whether it has the potential to break through the noise and go viral like those cute puppy pictures.
The purpose of content marketing is to earn an audience rather than buy it, attract people rather than interrupt them. Content marketing is the overlap between what brands publish and what customers want. This requires empathy by the brand to think about what customers are looking for and create content based on those needs.
For more information on building a content marketing strategy, read the rest of the blog and watch the webinar now!
Shweiki Media's mission has always been to help publishers improve by providing the most profitable, hassle-free printing experience possible. This includes guaranteeing the highest quality product, exceptional customer service, world-class communication, an on-time guarantee, and no surprises–whether printing magazines, postcards, flyers or anything else.
As a printer and publisher, Shweiki Media also believes that this hassle-free experience includes making their clients better. Utilizing relationships with industry experts, Shweiki Media strives to educate clients and help them thrive in the exciting world of publishing–while having lots of fun along the way!
For more great info from and about Shweiki Media, please check out our blog at shweiki.com/blog (and sign up for our free weekly expert webinars!), and subscribe to our Youtube Channel at youtube.com/shweikimedia. You can also follow us @ShweikiMedia and "like" us at Facebook.com/shweikimedia