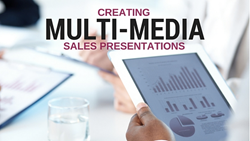 Sales conversations are about presentations and proposals. The main goal of any salesperson should be to make sure that he or she is the best.
Austin, TX (PRWEB) October 13, 2015
Shweiki Media Printing Company has teamed up with Ryan Dohrn—founder of Brain Swell Media, creator of the 360 Ad Sales Training system, and a globally recognized media revenue consultant—to present a webinar on how to create multi-media sales presentations that will win businesses.
Sales conversations are about presentations and proposals. The main goal of any salesperson is to make sure that he or she is the best. There are 10 tips that will help any sales-oriented organization increase their profit.
These 10 tips are based off of four principles known as S.T.O.P.:
Stranger danger is real and must be addressed. When a salesperson is meeting with potential clients for the first time, they do not know them. Because of this, the prospect will always be more reluctant to buy what a salesperson is selling even if he or she comes from a reputable company. The fact is, the person buying the product or service does not know the seller which means he or she is essentially a stranger. Hence, the idea of stranger danger. People are much more willing to buy from someone they know or understand than from a stranger.
Them-based conversations get results. Everything discussed today is going to be focused on them-based conversations. Many times, sales people will come into an office and talk about their products and services without mentioning the potential buyer. However, the focus always needs to be on the person who will be potentially be doing the buying.
Opportunities must match success stories. When presenting a multi-media proposal, opportunities should be presented along with it, written or verbal, and they must match the company's success stories. It is really hard to get people on board with a company's new media project, service offering, event, etc. if someone has not done it before. Most people do not like to be a pioneer. That is why companies need to have success stories. The hardest success stories to find are the first ones.
Practice for the very best results. The reason most people hate people hate practicing is because it is done wrong. When one practices a sales pitch, he or she should make it fun and exciting, but it should not be a game. It also should be a real-world scenario.
Want more? Click here to watch the webinar and get all 10 tips now!
Shweiki Media's mission has always been to help publishers improve by providing the most profitable, hassle-free printing experience possible. This includes guaranteeing the highest quality product, exceptional customer service, world-class communication, an on-time guarantee, and no surprises–whether printing magazines, postcards, flyers or anything else.
As a printer and publisher, Shweiki Media also believes that this hassle-free experience includes making their clients better. Utilizing relationships with industry experts, Shweiki Media strives to educate clients and help them thrive in the exciting world of publishing–while having lots of fun along the way!
For more great info from and about Shweiki Media, please check out our blog at shweiki.com/blog (and sign up for our FREE weekly expert webinars!), and subscribe to our Youtube Channel at youtube.com/shweikimedia. You can also follow us @ShweikiMedia and "like" us at Facebook.com/shweikimedia