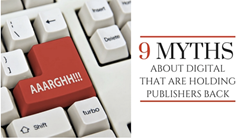 In order for print publishers to be successful online, they need to engage with their readers between issue releases and cover things they cannot in print.
Austin, TX (PRWEB) November 19, 2015
There are plenty of ways that one can make money and deliver value, build an audience and establish oneself as the anchored tenant in a local community—it just comes down to finding the right way and, of course, doing it right. Print is not dying, but print-only businesses are. As the media people consume diversifies, so too should print publishers.
Here Shweiki Media Printing Company teams up with Brian Ostrovsky, founder and CEO of Locable, to present local print publishers with a new, must-watch webinar on the nine myths about digital that are holding them back and some tactics and ideas on how to overcome them.
Myth 1: The market is not big enough for digital and/or publishers are not tech-savvy enough for it, readers are not interested in the digital environment, or the digital realm is too competitive.
These assumptions are wrong. How much does it cost publishers to print and distribute their print publication? How much does it cost to turn on and have a website running on a server? As it turns out, a website is far less expensive to run than a print publication. Therefore, if one's market is big enough to support print, it is big enough to support digital.
There is a lot of momentum in digital's favor.
-81% of consumers look online before making a big purchase decision. They may start with the print publication, but consumers will go online to learn more.
-63.1% of people are using the internet in rural areas. This is especially prevalent as smartphone usage increases and small businesses increase their spending on digital.
-66% of small businesses are maintaining or increasing their spending on digital marketing.
Myth 2: Owning a website means just having a place to put the flip-book version of the print publication and some advertising information, and a site should just be a digital representation of the print publication or a media kit.
In order for print publishers to be successful online, they need to engage with their readers between issue releases and cover things they cannot in print. Some things would include articles that come in after the deadline, conversational topics, 100 photos in the gallery, etc. These are things that work well online but not in print.
Sponsored content is another great way to extend a brand:
-Weekly homes reports (a curation of the homes available for sell in the area)
-Pet of the week (perhaps sponsored by the the local ASPCA)
-Local recipes provided by local restaurants.
-News: Either hard-hitting or slice-of-life stories
-Local guides
-Social promotions such as tickets and giveaways in the social media world
All of these things will drive engagement, traffic and content, and publishers can make money from them.
Myth 3: Banner ads are the only way to make money online and there has to be a lot of web traffic to drive revenue.
While it is true, if one wants to drive a lot of revenue from banner ads, they should have a significant amount of traffic. However, it should be noted that there are many ways to make money online besides having a lot of traffic.
Print publishers can drive revenue, traffic and engagement through a series of techniques:
-Community Sponsors
-Social Promotions
-Sponsored Content (articles, columns, featured events, guides)
-Digital Services
Community sponsors are great because publishers can sell their vision and it is a way to pre-sell their digital presence to folks who are extra interested in being involved in the community.
Social promotions are also a great way to engineer engagement and viral hits. When done well, tying in a contest with some giveaways is a good way to increase engagement. After all, if one is already having the conversation, why not add more value?
Click here to get the other myths and watch the webinar now!
Shweiki Media's mission has always been to help publishers improve by providing the most profitable, hassle-free printing experience possible. This includes guaranteeing the highest quality product, exceptional customer service, world-class communication, an on-time guarantee, and no surprises–whether printing magazines, postcards, flyers or anything else.
As a printer and publisher, Shweiki Media also believes that this hassle-free experience includes making their clients better. Utilizing relationships with industry experts, Shweiki Media strives to educate clients and help them thrive in the exciting world of publishing–while having lots of fun along the way!
For more great info from and about Shweiki Media, please check out our blog at shweiki.com/blog (and sign up for our FREE weekly expert webinars!), and subscribe to our Youtube Channel at youtube.com/shweikimedia. You can also follow us @ShweikiMedia and "like" us at Facebook.com/shweikimedia