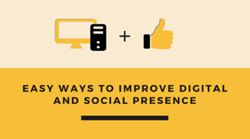 Choosing to not be engaged on social media platforms is much like hiring a cook and not understanding what is going on in the kitchen.
Austin, TX (PRWEB) January 10, 2017
Shweiki Media Printing Company is excited to announce that they've partnered with expert Ted Rubin to present a new webinar on how small businesses can improve their digital presence.
Ted Rubin is a leading social marketing strategist, keynote speaker, brand evangelist, and acting CMO of Brand Innovators. personal connection with people. Rubin is the most followed CMO on Twitter and number 13 on Forbes' list of the Top Fifty Social Media Power Influencers. His knowledge regarding how small businesses can improve their digital and social presence is just one of the reasons Leadtail placed him on their list of Top 25 People Most Mentioned by Digital Marketers.
In this webinar, Rubin begins by discussing the steps a business can take to build a digital and social strategy.
Before laying out a digital or social strategy, the first steps a small business should take is to listen and pay attention. This can be done by watching the behavior of customers in person, online, in interactions with each other, and when they visit other websites.
When it comes to the digital world, it pays for business professionals to engage on the platforms themselves.

Set up a Twitter and Facebook account and watch the feed
Follow their followers
Spend time reading what they are writing and sharing
Consider this the research side of building a digital and social presence
Choosing to not be engaged on social media platforms is much like hiring a cook and not understanding what is going on in the kitchen. This is not just for small businesses, but all businesses—it does not make much sense to invest time and money in social media platforms without understanding the experience yourself.
Rubin also covers the following topics:
Creating content the audience likes
Repurposing good content
Using syndication when writing blog posts
Getting started building a digital presence
Focusing on ROR to lead to ROI
And more!
The webinar is available now on Shweiki's YouTube channel and, with an accompanying blog, on Shweiki.com. Click here to watch the webinar now!
Shweiki Media's mission has always been to help publishers improve by providing the most profitable, hassle-free printing experience possible. This includes guaranteeing the highest quality product, exceptional customer service, world-class communication, an on-time guarantee, and no surprises– whether printing magazines, postcards, flyers or anything else.
As a printer and publisher, Shweiki Media also believes that this hassle-free experience includes making their clients better. Utilizing relationships with industry experts, Shweiki Media strives to educate clients and help them thrive in the exciting world of publishing–while having lots of fun along the way!
For more great info from and about Shweiki Media, please check out our blog at shweiki.com/blog (and sign up for our free weekly expert webinars!), and subscribe to our Youtube Channel at youtube.com/shweikimedia. You can also follow us @ShweikiMedia and "like" us at Facebook.com/shweikimedia