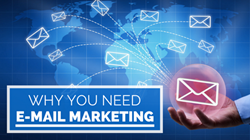 Email marketing isn't a strategy that businesses should consider optional, but one they should undoubtedly integrate into their existing marketing plan.
Austin, TX (PRWEB) July 14, 2015
Email marketing isn't a strategy that businesses should consider optional, but one they should undoubtedly integrate into their existing marketing plan. Here Shweiki Media Printing Company teams up with Alicia Lawrence, content coordinator for WebpageFX, as she conducts an interview with expert email marketer Dan Shaffer on why businesses should start using email marketing today--and how they should go about it.
The Benefits of Email Marketing
There are many benefits of email marketing that should motivate businesses and websites to start building their email lists:
1. It is very cost effective and has a high ROI (Return on Investment).
2. It helps keep the brand top of mind for the customer and continues to build customer loyalty.
3. Email marketing targets specific consumers with key messages.
Common Mistakes Businesses Make When Trying to Grow Their Email Lists
It's important to remember that when it comes to email marketing and building a good newsletter list, businesses need to have their subscribers back them up. If there are no subscribers or readers, then the results won't amount to anything.
The first big mistake many people make is not actively growing their email list. If it is stagnant or if businesses are not even working to build the list in the first place, then that is a huge mistake. Even if only one email is being sent out a year, one should still have list to come back to.
Here's an example of another mistake: A lot of people will come to a company like WebpageFX and say "We don't have an email list, but we want to start e-mail marketing today. Can we buy an email list?" This is the second big mistake people make. Buying email lists is not recommended because generally the people on those purchased lists do not appreciate being emailed like that and will immediately unsubscribe.
Ways to Build an Email List Quickly
One way to build an email newsletter list quickly is to use Twitter advertisements. This requires a lot of paid advertisements, and therefore it is only a good option if one is willing to spend money to compile a list. Twitter allows businesses to place ads that let people sign up for the newsletter with the click of a button. It may not be as cheap as some of the lists available for purchase, but it will be much more relevant to the people who subscribed because they will know what they signed up for.
If one goes to many trade shows and conferences, then that is another way to build a strong email list. One can bring along materials to provide a way for people to sign up for the newsletter, which is a great way to ensure that parties on the list are actually interested in receiving the emails.
One of the biggest ways one can build an email list is through his or her own website. Therefore, there should always be a way for people to sign up for the newsletter on the website--whether it be a sidebar or a pop-up. A lot of people might complain about pop-ups, but if done correctly, they can be very effective.
Best Practices in Email Marketing
The best thing to do when presenting someone with an offer to sign up for the company newsletter is to give them something back in return. Why would anyone sign up for an email newsletter that does not indicate the value? One should provide some type of incentive or reward for signing up, such as coupons or a free guide.
It is important to remember to be clear about what it is being communicated and what they are signing up for. If people are not clear about what they will be getting in their inbox, they will quickly unsubscribe. One should be clear as to what is actually in the newsletter and how often subscribers will be receiving it.
If the topic is a little different than what was communicated on the website, then people will be more likely to unsubscribe as well. Being clear and giving readers what they want are the the two things that will generally generate a good email list and guarantee readers will remain loyal for a long time.
The Best Pop-Up Programs to Use
There are several pop-up programs out there that are great at getting readers attention effectively:
-One paid program that is really great is OptinMonster, because the pop-up appears whenever someone is about to leave a page instead of when one is right in the middle of searching on the website. It has some recording features, and one can even do A/B testing to test the different headlines on pop-ups to see which one converts the best.
-SumoMe is a great free program used for building an email newsletter list. It does not provide as many features as OptinMonster, but it is a good starting point and it's free.
And Remember...
When it comes to email collecting, one should make sure to only ask for readers' essential information. If people have to fill out a whole bunch of questions in order to get the newsletter, they will eventually lose interest and one will get nothing back but a lot of incomplete forms. Second, one should not forget to make it easy for consumers to share the email newsletter with their friends. The more people that see it, the more subscribers one will have.
Shweiki Media's mission has always been to help publishers improve by providing the most profitable, hassle-free printing experience possible. This includes guaranteeing the highest quality product, exceptional customer service, world-class communication, an on-time guarantee, and no surprises--whether printing magazines, postcards, flyers or anything else.
Click here to watch the webinar now!
As a printer and publisher, Shweiki Media also believes that this hassle-free experience includes making their clients better. Utilizing relationships with industry experts, Shweiki Media strives to educate clients and help them thrive in the exciting world of publishing--while having lots of fun along the way!
For more great info from and about Shweiki Media, please check out our blog at shweiki.com/blog (and sign up for our free weekly expert webinars!), and subscribe to our Youtube Channel at youtube.com/shweikimedia. You can also follow us @ShweikiMedia and "like" us at Facebook.com/shweikimedia.