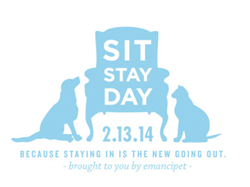 Sit Stay Day is a fundraising concept that supports Emancipet's mission: to make spay/neuter services and healthy pet care affordable and accessible to all pet owners through its low-cost clinics.
Austin, TX (PRWEB) February 10, 2014
Shweiki Media Printing Company is pleased to announce that they will be partnering yet again with Emancipet, sponsoring the nonprofit's 4th annual Sit Stay Day on February 13th by taking care of all printing needs. Sit Stay Day is an innovative fundraising concept that supports Emancipet and its mission: to make spay/neuter and preventive veterinary care affordable and accessible to all pet owners.
Founded in 1999, Emancipet is also known for providing training and support to other animal welfare organizations, and for advocating for animal-friendly public policy. (Learn more at emancipet.org)
The members of the Shweiki Media team pride themselves on being animal lovers, and they're excited for the opportunity to promote animal welfare, assist in the health and happiness of all pets, and give back to the community through their continued support of non-profit organizations like Emancipet.
Shweiki Media's mission has always been to help publishers improve by providing the most profitable, hassle-free printing experience possible. This includes guaranteeing the highest quality product, exceptional customer service and on-time delivery, whether printing magazines, flyers, postcards or anything else.
As a printer and publisher, Shweiki Media also believes that this hassle-free experience includes making their clients better. Utilizing relationships with industry experts, Shweiki Media strives to educate clients and help them thrive in the exciting world of publishing--while having lots of fun along the way.
For more great info from and about Shweiki Media, please check out our blog at shweiki.com/blog (and sign up for our free weekly expert webinars!), and subscribe to our Youtube Channel at youtube.com/shweikimedia.  You can also follow us @ShweikiMedia and "like" us at Facebook.com/shweikimedia.