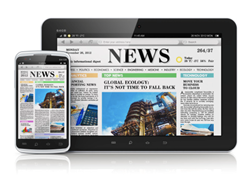 In current media-driven times, advertisers are looking to media companies to serve not only as informers and entertainers, but as data gatherers as well, and great data can increase the value of a company as much as three times.
Austin, TX (PRWEB) October 10, 2013
As print bleeds into the digital realm, publishers are faced with medium advantages that previously advertisers could only dream about. Whereas historically, magazine niche's sold themselves, today's basic readership demographics are only the tip of the revenue iceberg. Social media, email databases, and survey information have placed publications on the forefront of sources for data gathering (a service that advertisers are willing to pay for and one that publications will find useful in growing their own readership).
When one has a good database in place, they can then go to advertisers with some specifics. For example, one could say, "Not only do I have female readers, but I could tell you when readers open their emails, I can target the readers who like shoes and—specifically—I could even target the readers who like red shoes." The ability to target messages very specifically to unique users is very valuable, and the more niche, the more specialized and the more finite one can get that data, the more expensive they can make it.
Here Shweiki Media teams up with Ryan Dohrn of Brain Swell Media and 360 Ad Sales to present a webinar on growing digital readership and utilizing data to increase revenue.
Building a Big Data Plan
In current media-driven times, advertisers are looking to media companies to serve as not only informers and entertainers, but as data gatherers as well, and great data can raise the value of a company as much as three times. The first step in improving digital revenue is to create a data plan designed to extract information that third-party stakeholders would find useful.
One thing to consider is actually surveying data piece by piece through a data growth plan. For example, one might have someone's name and email and then, maybe at the onset, ask them how often they golf each year. Once that data is gathered, one can send out another question, like "When you golf, is it for business or pleasure?" A lot of times, surveys don't provide good results because there are too many questions being asked. Here, using a data growth plan, one is growing their database slowly, a little bit at a time.
Understanding Responsive Website Design
The next tip to consider for improving digital readership (and revenue) is to convert one's online pages to include a responsive website design, which is one that will uniformly work on all digital devices (including smartphones, tablets, kindles, and nooks). Some might say that they do have a mobile website in place, and that's simply the mobile version of their website. However, that typically requires a separate template. What responsive website design does is allow a website automatically—without a separate template—to morph and work on any device, meaning it's basically platform-agnostic.
When one creates a responsive website campaign, they are bridging the gap between application and mobile site. Streamlining one's design across all platforms not only builds an ease of use for the user, but it enhances one's own marketing mix by funneling the message into the most beneficial channel possible.
Being Google-Friendly
A very important thing for one to do is intensify their core keyword set—aka the five or six phrases/terms one wants to draw in website traffic with. Those that don't properly utilize Google usually suffocate under the search engine's market stranglehold. Even if one's publication features clever and prolific writers, ignoring SEO details is a surefire way to lose out on potential readership. The best way to get on Google's good list is to set aside a set of keywords specific to one's business—keywords that separates oneself from competition. Using headers and article titles to mirror one's keywords and signify an area of expertise increases search engine effectiveness and carves out a specific niche within the SEO marketplace.
Click here to watch the webinar now!
Shweiki Media's mission has always been to help publishers improve by providing the most profitable, hassle-free printing experience possible. This includes guaranteeing the highest quality product, exceptional customer service and on-time delivery--whether printing magazines, posters, flyers or anything else.
As a printer and publisher, Shweiki Media also believes that this hassle-free experience includes making their clients better. Utilizing relationships with industry experts, Shweiki Media strives to educate clients and help them thrive in the exciting world of publishing--while having lots of fun along the way!
For more great info from and about Shweiki Media, please check out shweiki.com, follow us @ShweikiMedia and "like" us at Facebook.com/shweikimedia.