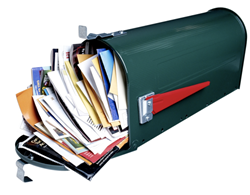 More often than not, one piece of direct mail looks a whole lot like most other pieces...There is something that makes every business special; the key is figuring out what that something is and playing it up in the direct mail.
Austin, TX (PRWEB) August 28, 2013
How To Make Direct Mail Work
Direct mail is a tried and true form of advertising, and when used correctly and strategically, it will work for almost every large and small business. There are numerous advantages to using direct mail: it's inexpensive, gives the sender complete control over messaging and recipients, and its results are easy to measure. But again, one has to be smart going in to get the results they need to build their business.
Target Practice: Who is the Desired Audience?
The best way to reach any potential client is for one to put themselves in the clients' shoes. Who are they? What do they want? When do they want it? How much are they willing to pay? By answering these questions, one will be well on their way to building a successful direct mail marketing campaign. From that point, one should build a mailing list of recipients they want to target, either by using their own list, purchasing a mailing list from a reputable source, or creating a list that is a combination of both. It's crucial that a list is clean. Duplicate and incomplete addresses or addresses not in the service area, for example, will only waste money. It's better to start fresh and simply clean up the list periodically.
Well, Isn't That Special: How to Stand Out From the Competition
More often than not, one piece of direct mail--be it envelope, postcard, etc.--looks a whole lot like most other pieces of direct mail. But while it's wise to do research and find out what's worked for other businesses, one shouldn't be afraid to be different. Once a piece makes it into the hands of a potential customer, there are only seconds to make an impression. This is the time to use great design (white space, quality images, and layout) and text that will evoke an emotion in the reader. Once their attention is grabbed, the business should go ahead and sell itself. There is something that makes every business special; the key is figuring out what that something is and playing it up in the direct mail (and all of the other advertising as well). One should avoid including tons of text, using hard-to-read fonts, or too many fonts. And one should never bad-mouth their competitors; it will do nothing to build trust with the reader.
After one thinks about and realizes what differentiates their business from the competition, it's as simple as spelling that out for clients and potential clients through direct mail.
How to Track the Results of a Direct Mail Campaign
When figuring out how to do this, one should think about what makes sense for them and their business. If one is just tracking calls that were placed because of the piece of mail, they'll miss the whole story. One should track actual sales based on their mailing (or subsequent calls). If one is getting 10 calls and making nine sales, they're doing something right on the call, but not with the mailer. If one is getting 1,000 calls but only selling a small percentage, they should make sure that the mailer is accurate (the client will get what is promised) and take a close look at how calls are being handled.
Good ways to measure the results of a direct-mail campaign: direct calls and visits to a phone number or web page exclusive to the mailer, and the use of coupon codes, QR codes or "where did you hear about us" questions.
Smart direct mail will bring great returns. Period. And direct mail campaigns work best when they include multiple mailings or follow-ups. Because it's so targeted, when used alone, direct mail has a high response rate (about 3.4% according to a study by the Direct Marketing Association), but it's usually even better to use direct mail in some combination with online and social media marketing and other print advertising.
Shweiki Media's mission has always been to help publishers improve by providing the most profitable, hassle-free printing experience possible. This includes guaranteeing the highest quality product, exceptional customer service and on-time delivery, whether printing magazines, catalogs, postcards or anything else.
As a printer and publisher, Shweiki Media also believes that this hassle-free experience includes making their clients better. Utilizing relationships with industry experts, Shweiki Media strives to educate clients and help them thrive in the exciting world of publishing--while having lots of fun along the way!
For more great info from and about Shweiki Media, please check out shweiki.com, follow us @ShweikiMedia and "like" us at Facebook.com/shweikimedia.