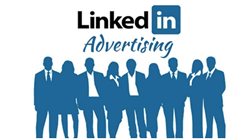 LinkedIn can target geography, zip code, work experience, job title, industry, skill sets, etc, making it a very effective platform for advertising.
Austin, TX (PRWEB) July 06, 2016
Shweiki Media is excited to announce that they've teamed up with LinkedIn expert Kevin Knebl to present a new, expert webinar on how to advertise effectively and successfully on LinkedIn.
LinkedIn Ads and Sponsored Content
This is a feature that many people do not fully understand. It is a feature on LinkedIn that is constantly changing. This is not a free feature, because advertising costs money. LinkedIn advertising is more expensive in terms of pay per click and pay per impression. However, the strategic targeting LinkedIn allows is extremely valuable. Genearlly, LinkedIn advertising is not considered overpriced, and it is worth the ROI.
LinkedIn is a database of 420 million users worldwide with 2-5 uses per second. It has the resumes of 420 million people including work history, skill sets, hobbies, etc. From an advertising perspective, it is literally a goldmine. If one is looking for people who went to Rutgers, are now CFOs, and live 20 miles from Tulsa, they can literally target that specific segment.
LinkedIn also does sponsored content. The difference between sponsored content and ads is that ads do not have a like or share button. Sponsored content allows users to like, share and comment on it.
The rest of the webinar serves as a tutorial on how one can create an effective and successful advertisement on LinkedIn, and it's available on Shweiki's YouTube channel and on Shweiki.com.
Click here to watch the webinar now!
Shweiki Media's mission has always been to help publishers improve by providing the most profitable, hassle-free printing experience possible. This includes guaranteeing the highest quality product, exceptional customer service, world-class communication, an on-time guarantee, and no surprises–whether printing magazines, postcards, flyers or anything else.
As a printer and publisher, Shweiki Media also believes that this hassle-free experience includes making their clients better. Utilizing relationships with industry experts, Shweiki Media strives to educate clients and help them thrive in the exciting world of publishing–while having lots of fun along the way!
For more great info from and about Shweiki Media, please check out our blog at shweiki.com/blog (and sign up for our FREE weekly expert webinars!), and subscribe to our Youtube Channel at youtube.com/shweikimedia. You can also follow us @ShweikiMedia and "like" us at Facebook.com/shweikimedia