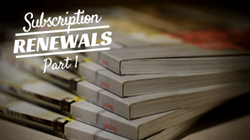 Renewals increase profits, growth and brand relationships. For the subscription business, the key element of subscriptions is renewals. According to Fortune magazine, "It's a subscription economy and you're just living in it."
Austin, TX (PRWEB) May 10, 2016
Shweiki Media Printing Company is excited to announce that they've teamed up with expert Kathy Greenler Sexton, CEO and publisher for Subscription Insider, to present a two-part webinar focusing on magazine subscription renewals. Here, Shweiki presents part one of the series, which focuses on why magazine renewals and subscriptions are a "hot" business model.
Renewals increase profits, growth and brand relationships. For the subscription business, the key element of subscriptions is renewals. According to Fortune magazine, "It's a subscription economy and you're just living in it."
Subscription businesses, such as publishers, have been around for years. The question is, something that is so old suddenly so hot and new again? It is because subscriptions are profitable. And that's because subscription businesses focus on renewals and make sure that the cost of acquisition is covered and renewals are turned into profit.
Benchmarks for Subscription Rates
For monthly renewal rates, the majority of them have a lifetime of six to nine months. Most businesses that offer annual subscription rates try to stay above 70%. B2C companies tend to skew a little lower. 70% is a good range for oneto strive for. Obviously, the higher the subscription rate, the more profitable the business is.
Annual renewal rates that leverage sales teams for group and site licenses really want to be 90% or above for B2B and 80% or above for B2C.
Tips and Tricks for Improving Renewal Activities
There are tips and tricks that can be used to improve renewal activities that can be started right away. They can be divided into five areas:
-On Boarding
-Engagement
-Dedicated Marketing
-Customer Delight
-Payment Processing
On boarding is when one is welcoming customers and educating them about what the product is about. A good on boarding program that is well constructed will achieve an up-to-20-percent higher retention rate. There are a few things one should think about in terms of on boarding. One thing is having a series of emails that bring that subscriber on and educate them about the brand, mission and how to use the product. It is very important to engage with the customer.
If one does not engage with the customers, then they are not going to use the product. If they do not use the product, then they will not renew.
One should start with a welcome journey. This can include congratulating them, reminding them how to use the site, showing them top content, etc. The key is just interaction. The welcome journey must go beyond the first four to eight weeks, and one should communicate with them one on one throughout the year, not just at renewal time.
One should also make sure to engage with subscribers on an ongoing basis by having dedicated marketing teams and programs geared toward retention marketing, not just acquisition. It's not complicated: If one provides a great user experience, customers are more likely to renew.
To read the rest the post in its entirety and watch the webinar, click here now!
Shweiki Media's mission has always been to help publishers improve by providing the most profitable, hassle-free printing experience possible. This includes guaranteeing the highest quality product, exceptional customer service, world-class communication, an on-time guarantee, and no surprises–whether printing magazines, postcards, flyers or anything else.
As a printer and publisher, Shweiki Media also believes that this hassle-free experience includes making their clients better. Utilizing relationships with industry experts, Shweiki Media strives to educate clients and help them thrive in the exciting world of publishing–while having lots of fun along the way!
For more great info from and about Shweiki Media, please check out our blog at shweiki.com/blog (and sign up for our free weekly expert webinars!), and subscribe to our Youtube Channel at youtube.com/shweikimedia. You can also follow us @ShweikiMedia and "like" us at Facebook.com/shweikimedia