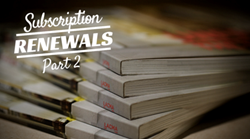 Renewals are where the profitability and growth engine are for subscription business.
Austin, TX (PRWEB) May 31, 2016
Shweiki Media has teamed up with Kathy Greenler Sexton, CEO and publisher for Subscription Insider, to present a two-part webinar on magazine subscription renewals. The first webinar in the series discussed how renewals and subscription businesses are a hot business model. Part two focuses on the specific retention reports of magazine subscription renewals and can be found on Shweiki's YouTube channel and on Shweiki.com.
Measuring Retention Effectiveness
With magazine subscriptions, it is important to focus on measuring retention effectiveness. In order to understand retention opportunities and trends, one must have a simple way to track retention patterns. It is important to have a methodology that accommodates different billing periods and the fact that some customers pay for only part of a term, then cancel.
Ideally, a reporting system can break up performances by channel, perhaps by the initial offer, free trial offer and also through billing terms. Each of these variables separate subscriber bases into different groups with different retention characteristics that have different leverage points. It's important to be able to track different groups within the business and create a shared language of renewal rates across the organization. As for the standard time for renewals, almost all billing terms are 12 months or less and fiscal years are defined by 12 months. Therefore, 12 months is the most logical time frame to use. The reason why retention rates can be so complicated is because many businesses measure it differently.
Simple Retention Rates
A simple retention rate is a metric that freezes a group of subs and follows their attrition over time.
The strength of a simple retention rate lies in its simplicity and readily available data. It is also important for budgeting and creating casting purposes because it tells how many people are available to be renewed at the end of the year. It does not truly reflect the retention rate in terms of revenue associated with individual revenue subscriptions. For example, people who cancelled mid-year or after the first quarterly billing period may not be reflected well in a simple retention rate calculation. To account for those, one must do an annual equivalent sub concept. This is the most accurate method of measuring retention because it represents a cumulative offer on subscriber volume and revenue is based on pooling all the months served and recalculating them in years. Each of the years count as a whole subscriber.
It is best to use the annual equivalent sub metric when aggregating offers into a single number or explaining revenue changes.As a formula, the annual renewal rate is calculated by the total months served of all months of the period divided by the number of months in the period divided by the number of subs in the beginning of the period. This will help one arrive at the true retention rate.
One can then take this data and information and start leveraging it to understand specific drivers within the subscription business.
Bonus Tips
When one is setting up your bank statements and renewal notices, even if they are automated, it's important to make sure they are not ugly. It is important to understand what the customers are seeing. Bank statements and renewal notices should have the right company name on it, be legible, and have the product name. This way one is re-emphasizing value propositions of why people bought the subscription in the first place. It is a great marketing opportunity to re-engage.
It is also important to leverage analytics. It is the intelligence one can use to drive subscription business by understanding active and inactive subscribers. One will be able to quickly enact different programs through their renewal marketing efforts to really make sure renewal rates are being maximized.
Renewals are why subscriptions are such a great business model. It takes a lot of work and many companies ignore the whole art and science of renewal marketing to focus solely on acquisitions. That is a shame because renewals are where the profitability and growth engine are for a subscription business. One should take care of the golden egg and focus on renewals to have a profitable subscription business.
Click here to watch the webinar now!
Shweiki Media's mission has always been to help publishers improve by providing the most profitable, hassle-free printing experience possible. This includes guaranteeing the highest quality product, exceptional customer service, world-class communication, an on-time guarantee, and no surprises–whether printing magazines, postcards, flyers or anything else.
As a printer and publisher, Shweiki Media also believes that this hassle-free experience includes making their clients better. Utilizing relationships with industry experts, Shweiki Media strives to educate clients and help them thrive in the exciting world of publishing–while having lots of fun along the way!
For more great info from and about Shweiki Media, please check out our blog at shweiki.com/blog (and sign up for our free weekly expert webinars!), and subscribe to our Youtube Channel at youtube.com/shweikimedia. You can also follow us @ShweikiMedia and "like" us at Facebook.com/shweikimedia