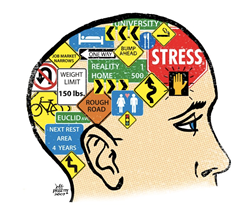 For businesses targeting the college market, cutting through marketing noise is often an uphill battle. One way to truly engage students is through forms of interactive print like augmented reality.
Austin, TX (PRWEB) March 27, 2014
College students comprise a demographic with major spending power, as evidenced by the 2013-2014 academic school year alone, when an estimated 22 million students in the United States combined to form a $404 billion dollar market.
And for businesses targeting the college market, cutting through marketing noise is often an uphill battle. While almost all marketers targeting college students are distributing messages through advertising and various social media platforms, far fewer are actively engaging students with information and content that the majority would deem valuable.
Here Study Breaks, a leading college media entertainment company, presents strategies that marketers can use to stand out from the competition and engage college students.
Invest in Interactive Print
Simply by walking through a college campus, one will find evidence that print is alive and thriving. Many businesses will look to print as their main source of advertising power, but what's often tough for marketers is seeing a definitive return on advertising investment. While adding a call to action or coupon to one's print advertising can be useful for determining the effectiveness or reach of an advertisement, expecting students to enthusiastically respond to what is generally known as an industry standard is unlikely. However, one way to truly engage students is with interactive print.
One form of interactive print is augmented reality, and tools such as Layar's augmented reality are changing the print game and bringing the medium to life in a way that's never been done before. Users simply launch the app, hold their tablet or smartphone across an advertisement, and a video image will be automatically loaded directly onto one's device. The result is a still image turned digital.
Augmented reality has multiple benefits. One valuable aspect of the tool is the ability it gives marketers to showcase content that wouldn't be explained as easily through pure images and words alone. A company can attach a video that truly gives insight into what they do and what they offer. (For example, a bar can use a video of the establishment on a busy Friday night, a concert venue can use footage of a great show, and an apartment complex can present video tours of its complex and testimonies from happy residents.) The second benefit presented by augmented reality is that it allows for click-through possibilities by presenting businesses with the possibility to include links to their website and social media pages or even directions to a retail location.
Although sales are always the best form of ROI, business owners can feel good about translating ad views into social media likes, website traffic, etc.
Improve Social Media Engagement
Some excellent strategies for improving social media engagement include personalizing one's platforms by using Facebook to highlight employees (an awesome strategy if one's business employs students), getting personal on Twitter and reaching out to followers, and using Pinterest to invite others to pin to one's board.
One strategy that particularly applies particularly to the college market is implementing hashtags. Hashtags are an interesting mix of content organizer, rally cry and engagement marker. In the tight-knit community that is a college campus, a well-known hashtag can potentially become larger than the brand itself. (#Winning)
Businesses should be sure to include a hashtag whenever possible. Even if it doesn't gain traction, one will impress students by utilizing a modern approach, and the use of a popularity hashtag can also give the business the opportunity to join an online conversation and be discovered in a way that they wouldn't have otherwise.
Be Mobile-Friendly
Students are rarely without a mobile device on their person, and going mobile is one of the most important marketing steps one can take when targeting this demographic. Without messages designed specifically for mobile devices (and a mobile-friendly site), one is not only missing out on the traffic and business of college students, but is likely to be surpassed by businesses who have taken the steps to integrate mobile into their marketing strategy.
For more information on the importance of mobile marketing and statistics on students' mobile usage, check out the blogs on Study Breaks College Media.
Study Breaks College Media provides a one-stop solution for small businesses, providing them with big marketing strategies and delivering college students.
Study Breaks magazine is an award-winning line of monthly entertainment magazines for college students with a mission can best be explained through its slogan: We are college life. Published by Shweiki Media Printing Company, it is distributed in five Texas cities (Austin, Houston, San Antonio, San Marcos and Lubbock). (Studybreaks.com)