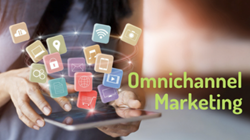 A marketing professional should want to deliver a seamless and unified experience across every channel, [and] omnichannel stands out as the best way to keep customers in mind.
Austin, TX (PRWEB) September 06, 2017
Successful marketing is something that can be very difficult for companies to pull off. There are many aspects to communicating with customers, and when a business does it poorly, they suffer.
Omnichannel marketing is a very customer-centric way to do business. To successfully use it, a company must take a walk in their customer's shoes to see how each and every experience goes. After walking in their shoes, a business must focus on using all forms of customer interactions so that they are seamless and send a clear story.
Shweiki Media has teamed up with Ann Handley -- marketing expert, writer, LinkedIn influencer, and chief content officer for MarketingProfs -- to present a webinar on the key aspects of omnichannel marketing.
In Ann's own words, a marketing professional should "want to deliver a seamless and unified experience across every channel." This could be described of multichannel marketing, but she thinks that omnichannel stand outs as the best way to keep customers in mind. In multichannel, the marketers are at the center of it all. With omnichannel, customers get to be.
In this webinar, Ann explains how omnichannel is different from other types of marketing, presents a key case study, and helps marketers understand why they should adapt this valuable strategy.
The webinar is available on Shweiki's YouTube channel and, with an accompanying blog, at shweiki.com. Watch the webinar now!
Shweiki Media's mission has always been to help publishers improve by providing the most profitable, hassle-free printing experience possible. This includes guaranteeing the highest quality product, exceptional customer service, world-class communication, an on-time guarantee, and no surprises– whether printing magazines, postcards, flyers or anything else.
As a printer and publisher, Shweiki Media also believes that this hassle-free experience includes making their clients better. Utilizing relationships with industry experts, Shweiki Media strives to educate clients and help them thrive in the exciting world of publishing–while having lots of fun along the way!
For more great info from and about Shweiki Media, please check out our blog at shweiki.com/blog (and sign up for our FREE weekly expert webinars!), and subscribe to our Youtube Channel at youtube.com/shweikimedia. You can also follow us @ShweikiMedia and "like" us at Facebook.com/shweikimedia