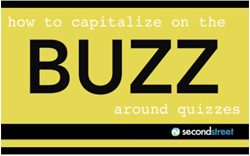 Quizzes serve as a great way to drive traffic to websites because they are incredibly social and shareable, giving one the ability to reach either a broad or niche audience.
Austin, TX (PRWEB) December 01, 2015
Quizzes serve as a great way to drive traffic to websites because they are incredibly social and shareable, giving one the ability to reach either a broad or niche audience. Here Shweiki Media teams up with experts Matt Coen and Liz Crider of Second Street Promotions Lab to present a new webinar on how to best capitalize on the buzz around quizzes and take advantage of this great opportunity. This webinar will cover why print media loves quizzes so much, how they have been effective, why quizzes appeal to everyone, and what kind of revenue opportunity quizzes offer.
Types of Quizzes
When talking about quizzes, it is important to remember that there are several different types (or flavors) of quizzes that are available to use.
Personality Quiz: The first type of quiz is a personality quiz. Personality quizzes are the kind in which one is asked a variety of questions in order to discover something about themselves. Quiz-takers are given different outcomes based on how they answered questions. Quizzes, such as "Which Beetle Are You?" "What Cardinals Player Are You?" and "What Breed of Puppy is Perfect for You?" are all examples of personality quizzes.
Trivia Quiz: Another type of quiz is a trivia quiz. A trivia quiz is designed to test a person's knowledge about a particular subject. These can be either fun and trivial in nature or used as a serious learning opportunity. Overall, trivia quizzes are great storytelling mechanisms. For example, a quiz could be centered around movie content, such as "So, You Think You're a Move Buff?"
Advertiser Quiz: Advertiser quizzes are created for a specific advertiser to showcase his or her business and collect consumer data. Therefore, the quiz was not just created by a publication for editorial purposes but has a specific advertiser in mind. For example, the Kansas City Tourism Bureau sponsored a quiz called, "How Well Do You Know Kansas City?"
Why Newspapers Love Quizzes
Print media loves quizzes for a variety reasons. These include:
-They're Fun
-They're Engaging
-They Drive Revenue
-They Provide Content for Site and Publication
-They collect Data
-They Provide Custom Solutions
Quizzes Are Fun! One can do just about anything with a really great quiz and still be very specific and relatable to his or her content.
Why Quizzes are Fun:
-They're Engaging
-They're Universal: Quizzes can appeal to a wide variety of people, either niche or large -group of people.
-They're Fun to Create
-There Are Endless Options: You can never run out of quiz opportunities.
-They Drive Engagement and Content
Quizzes Engage Your Audience! Quizzes are a great way to reach and interact with an audience.
Why Your Audience Loves Quizzes:
-They're Social
-They're Shareable
-They're Timely (Holiday specific, event specific or seasonal)
-They're Quick and Easy
-They're FUN!
Quizzes Drive Revenue! Quizzes are a great way to drive a lot of revenue. There are many ways people can monetize quizzes.
How One Can Use Quizzes to Drive Revenue:
-Sell one exclusive sponsorship
-Sell multiple prize sponsorships
-Align with current promotions or programming
-Sell a quiz bundle
Quizzes are Native/Advertiser Content: They are also a great way to educate audiences and use native content as part of a quiz.
How One Can Utilize Quizzes as Content:
-Align Them With Current Initiatives
-Use Them as a Unique Solution for Advertizers
-Customize Them
-Incorporate Them Into Mobile as Content
Quizzes Collect Customer Data: Quizzes are a great way to collect a lot of data about customers as they take these quizzes.
Collect Data in the Following Ways:
-Answers to Questions
-Registration Fields
-Survey Questions
-Opt-ins
Quizzes Offer a Custom Solution: Quizzes offer fantastic customized solutions for a publisher and their advertisers.
Benefits of Custom Quizzes:
-They Feature the Advertiser's Products and Services
-They Collect Data for the Advertiser
-They Encourage Social Sharing
-They Generate Huge Exposure
-They Provide a Unique Solution
Why Do Quizzes Appeal to Everyone?
Quizzes appeal to everyone because they have a great mass appeal, they are fun and engaging, and they are great for content. They appeal externally to audiences because they are so social, quick, easy to take, and they are fun but also informative. For example, when there is a quiz like, "Which Frozen Character Are You?"a lot of people are going to be engaged just by the nature of its content. This particular quiz was taken 9,000 times in one week with a 75% opt-in rate. Great, exciting and popular topics will get people and the external audience excited and talking about the quiz. Internally, quizzes are also great for the team.
How to Get Buy-In
There are a couple of things one should do in order for people to buy-in to his or her quiz.
1. Have a Plan.
Planning is everything with quizzes. One should do the following:
-Make a plan so everyone is on the same page.
-Look at what you are already doing, and act accordingly.
-Use quizzes around big programming.
2. Make it Fun!
One should:
-Engage their team.
-Come up with timely topics.
-Have fun with quizzes!
3. Show the Benefits of the Quiz!
One should focus on the following benefits:
-Driving online traffic
-Driving social engagement
-Fulfilling department goals
-Driving revenue
How to Sell Quizzes
When selling quizzes, one should think about the advertisers they need to target by aligning with a theme and considering one's target market. It's important to remember that niche advertisers are a great fit for quizzes because they are so customizable. For example, if one is running a "Which Football Player Are You?" quiz, they need to think about which advertisers want to be in front of that specific demographic.
Another thing to keep in mind when selling quizzes is how to incorporate a sweepstakes. One should give people a reason to share the quiz by providing an incentive.
One should:
-Justify the Request for Registration
-Ask a Survey Question to Gather Information
-Make the Prize Compelling and Relevant
-Gather Opt-ins and "Likes"
How to Promote Quizzes
When it comes to promoting quizzes, one should make sure they're having fun as well. Much of the promoting happens on social media sites, such as Facebook and Twitter, when users are sharing their results and linking to the quiz. Email is another good way to promote quizzes. One can send out an email asking people to participate, and data shows that it is a huge activator for these types of promotions.
Click here to watch the webinar now!
Shweiki Media's mission has always been to help publishers improve by providing the most profitable, hassle-free printing experience possible. This includes guaranteeing the highest quality product, exceptional customer service, world-class communication, an on-time guarantee, and no surprises—whether printing magazines, postcards, flyers or anything else.
As a printer and publisher, Shweiki Media also believes that this hassle-free experience includes making their clients better. Utilizing relationships with industry experts, Shweiki Media strives to educate clients and help them thrive in the exciting world of publishing—while having lots of fun along the way!
For more great information from and about Shweiki Media, please check out our blog at shweiki.com/blog (and sign up for our free weekly expert webinars), and subscribe to our YouTube Channel at youtube.com/shweikimedia. You can also follow us @ShweikiMedia and "like" us at Facebook.com/shweikimedia