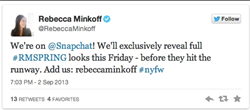 These are just a few examples of how companies, both large and small, can use social media on a direct, personal level to directly reach a customer, encouraging interactivity and reaping benefits like increased customer loyalty and resulting profits.
Austin, TX (PRWEB) January 15, 2014
Social media adds value to businesses by supplying them with a real-time gage of influence. Generally, social media marketers have worked on a two-point plan:
1. Grow one's social pages as much as possible
2. Promote links and discounts to increase online hits/sales
A new marketing trend, however, is arising within the social media world. Businesses (both large and small) are shifting their focus towards communication with the individual consumer, invariably shrinking social media back to a personalized form.
Although local businesses are more adapt to engaging the traffic that this type of strategy calls for, giant corporations are using their "celebrity" status to wow customers into an increased brand loyalty. Here Shweiki Media Printing Company presents important information on the latest marketing trend, shrinking social media.
Dell's Twitter Feed
Dell is a great example of an industry giant taking the concept of social media personalization seriously. The company has multiple Twitter accounts, including Dell Cares and Dell Cares PRO , that are used exclusively as an ally to combat technical difficulties.
Dell's Dell Outlet account has reportedly generated over $2 million in revenue, exclusively because of their Twitter activity. The company's value lies in its level of service, and its customers are engaged because they are constantly getting the feedback they want, and in many cases, need.
Small Business Use
What small businesses lack in size, they can make up for in flexibility.
The platform Snapchat is increasingly being used for business purposes.
During New York's Fashion Week in September, designer Rebecca Minkoff previewed her new collection using Snapchat's "My Story" feature, giving fans a 10-second glimpse of each of her upcoming designs.
16 Handles, a New York-based ice cream chain, also incorporated Snapchat into their marketing cycle. Customers who sent a picture to the company's Snapchat account of themselves trying any of 16 Handles' ice cream flavors were sent a snap of a coupon in return.
The catch? Per the nature of Snapchat, the coupons had to be opened within ten seconds at the time of their purchase before they vanished for good.
These are just a few examples of how companies, both large and small, can use social media on a direct, personal level to directly reach a customer, reaping benefits like increased interactivity and loyalty--and the resulting profits.
Shweiki Media's mission has always been to help publishers improve by providing the most profitable, hassle-free printing experience possible. This includes guaranteeing the highest quality product, exceptional customer service and on-time delivery--whether printing flyers, magazines, postcards or anything else.
As a printer and publisher, Shweiki Media also believes that this hassle-free experience includes making their clients better. Utilizing relationships with industry experts, Shweiki Media strives to educate clients and help them thrive in the exciting world of publishing--while having lots of fun along the way.
For more great info from and about Shweiki Media, please check out our blog at http://www.shweiki.com/blog (and sign up for our free weekly expert webinars), and subscribe to our Youtube Channel at http://www.youtube.com/shweikimedia/.  You can also follow us @ShweikiMedia and "like" us at Facebook.com/shweikimedia.