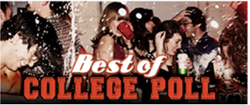 Magazines have relied on readers' choice polls for a number of years now, and digital advancements have made them more valuable--and easy to use--than ever.
Austin, TX (PRWEB) November 26, 2013
Shweiki teams up with Matt Coen and Julie Foley of Second Street Promotions Lab—a site that works with over 3,000 media partners, consulting on topics such as email marketing, contests, and online promotions—to present a must-watch webinar on how digital is expanding opportunities for readers' choice polls and ballots more than ever before.
Ballots
Magazines have relied on readers' choice polls or ballots for a number of years now for special issues and stories (such as the "Best of College" feature in Study Breaks magazine or Austin Monthly's "Best of the City" survey), and digital advancements have made them more valuable—and easy to use—than ever.
One helpful advantage that's particularly useful allows for a combination of both a seeded-in entry form and a write-in option. Once the user has chosen their preferred form of entry, the program connects the data with like matches, eliminating the huge hassle of manually counting and calculating votes.
Revenue Opportunities
There's long been an empty space with digital in relation to how to make money online with a ballot or promotion. It turns out that now—between upgraded listings, category sponsors, online ads, live events, the print issue itself and more—there are a lot more opportunities for digital revenue.
Other Revenue Opportunities
Another revenue service for a readers' choice promotion is a digital special print issue. An issue that sells well in print often sells well in digital, especially when a ballot option is involved (as audience involvement increases issue loyalty). Creating special options online for both consumers and advertisers allows one to increase revenue on a value-based decision.
Click here to watch the webinar now!
Shweiki Media's mission has always been to help publishers improve by providing the most profitable, hassle-free printing experience possible. This includes guaranteeing the highest quality product, exceptional customer service and on-time delivery--whether printing magazines, postcards or anything else.
As a printer and publisher, Shweiki Media also believes that this hassle-free experience includes making their clients better. Utilizing relationships with industry experts, Shweiki Media strives to educate clients and help them thrive in the exciting world of publishing--while having lots of fun along the way!
For more great info from and about Shweiki Media, please check out shweiki.com, follow us @ShweikiMedia and "like" us at Facebook.com/shweikimedia.