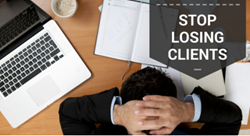 It is easier to retain a customer rather than trying to find a new client or customer, so it's critical to have a customer retention plan.
Austin, TX (PRWEB) April 21, 2016
Losing clients is an important issue and while trying to stop it might sound easy, it can actually be very difficult to do. After all, all too often, a client will cancel for no apparent reason. One can try calling them but they do not return the call; one can try emailing them but they do not email back; one can speculate and wonder, but the fact of the matter is that one has lost that client. So what's the next step?
Shweiki Media is excited to announce that they've teamed up with expert Ryan Dohrn of Brain Swell Media and 360 Ad Sales Training to present a new webinar featuring key client retention strategies.
Customer Retention Program
It is easier to retain a customer rather than trying to find a new client or customer, so it's critical to have a customer retention plan.
Ideas and things to think about to maintain a customer retention program:
-Profit: One should calculate how much it will cost to acquire a customer and make sure the retention program is somewhat equal.
-Champion: When creating this retention program, one should think about who will champion it. Without a champion, there will be no success. Every new program that is launched needs someone to champion or lead it.
-Equality: Are all customers equal in the retention program? Are there different incentives offered to people who spend more money? It is best to try and play it as equal as possible.
-Customer Appreciation: Are advertising and customer appreciation parties, gatherings and trade shows a part of the program?
-Lunches: Does one host lunch and learn seminars for clients? If so, one should make these non-sales like. The purpose of these seminar lunches is to inform and educate.
-Coaching: Has one considered offering monthly business sales coaching? Most organizations need sales help. It's valuable to offer these professional services to customers to retain them for the long haul.
-Conference Calls: One should try offering monthly conference calls for clients featuring experts on specific topics.
-Handwritten Thank You's: It's a good advice to express gratitude and personalize it.
-Events: One should offer exclusive events and retreats. It sounds expensive, but not necessarily when compared to finding a new client.
-VIP Call-In Line: One could create a VIP call0in line and grant exclusive access to important clients so they always get a human on the line when they need help.
It is easy to blame circumstance, others or the situation when a client is lost. Instead of playing the blame game, however, one should try stepping back from the situation and figure out ways to fix the issue. Often it just comes back to changing perspective, location, angle, etc. in order to see where the problem lies and how to fix it.
To watch the webinar and read the accompanying blog on key strategies for customer retention, click here!
Shweiki Media's mission has always been to help publishers improve by providing the most profitable, hassle-free printing experience possible. This includes guaranteeing the highest quality product, exceptional customer service, world-class communication, an on-time guarantee, and no surprises–whether printing magazines, postcards, flyers or anything else.
As a printer and publisher, Shweiki Media also believes that this hassle-free experience includes making their clients better. Utilizing relationships with industry experts, Shweiki Media strives to educate clients and help them thrive in the exciting world of publishing–while having lots of fun along the way!
For more great info from and about Shweiki Media, please check out our blog at shweiki.com/blog (and sign up for our free weekly expert webinars!), and subscribe to our Youtube Channel at youtube.com/shweikimedia. You can also follow us @ShweikiMedia and "like" us at Facebook.com/shweikimedia