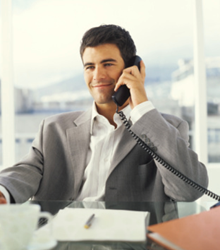 Effective prospecting is all about discipline. If there's no discipline, there will be no results. One can equate this to sports where, without practice, one can't expect to win.
Austin, TX (PRWEB) September 11, 2013
It's simple: effective sales begins with effective sales prospecting. Here Shweiki Media teams up with Ryan Dohrn of Brain Swell Media and 360 Ad Sales to present a webinar on important tips for doing it well. Throughout Dohrn's years as a professional consultant, he has worked with countless publishers, large and small, advising them in the arenas of ad sales, marketing strategy and publication success, and here he uses his talents to present must-know strategies for the initial, important step of sales success: prospecting.
Use a Disciplined Approach
Effective prospecting is all about discipline. If there's no discipline, there will be no results. One can equate this to sports where, without practice, one can't expect to win.
Create Prospecting Channels
The first step when building a disciplined sales approach is to create proper prospecting channels. Prospects can be broken down into four main categories: cold, warm, hot and current. One can think of cold as being the prospects whom one has the least chance of working with, all the way up to what can be considered the hottest lead, which is one's current clients.
Most sales teams use a CRM system to track leads, but what they don't know is that many CRM tools such as SalesForce or Highrise often have attributes that are good for breaking down prospects into warm and cold categories. For those without a CRM system, a simple Excel spreadsheet does the job just fine.
Become a Meeting Maniac
When one thinks about successful salespeople, one thing they often have in common is that they're the ones who have the most meetings. This doesn't mean necessarily that they're constantly going to face-to-face meetings. Meetings can be done in different ways, over different channels: over the phone, in person, at trade shows…The bottom line is that it's necessary to become a meeting maniac, and that means becoming busy.
High call volume (i.e. meetings per day/week) is the is the key to becoming a successful salesperson, as without consistent outward calls, one will have major difficulties adding potential clients to their incoming prospect list. Not only should one be making calls, one should come into each work week with a plan of attack for whom they're going to call all week. Coming in without a plan often leads to failure, but being prepared can lead to prospects and, ultimately, sales success.
One effective strategy that one can consider is to call on 10 previously uncalled leads every day, which will result in around 200 new business calls per month.
Working with an eNewsletter List
After one has called on a lead and prospected them through their CRM tool (or Excel sheet), the final step (before closing the sale) is to add them to one's enewsletter list. An enewsletter is a letter emailed to one's potential clients informing them about any updates in software and products, or just general advances the company is making. Creating an enewsletter is important because it gives prospects a chance to see what's new within the company, while also touching base with them without any extra input from a salesperson, which results in a win-win for sales effectiveness.
Click here to watch the webinar now.
Shweiki Media's mission has always been to help publishers improve by providing the most profitable, hassle-free printing experience possible. This includes guaranteeing the highest quality product, exceptional customer service and on-time delivery--whether printing magazines, postcards, flyers or anything else.
As a printer and publisher, Shweiki Media also believes that this hassle-free experience includes making their clients better. Utilizing relationships with industry experts, Shweiki Media strives to educate clients and help them thrive in the exciting world of publishing--while having lots of fun along the way!
For more great info from and about Shweiki Media, please check out shweiki.com, follow us @ShweikiMedia and "like" us at Facebook.com/shweikimedia.