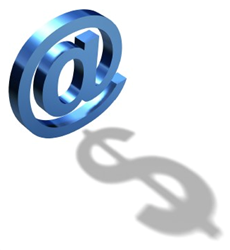 Advertisers often don't realize how valuable email addresses are and feel like they shouldn't have to pay [for access]. However, a database of email addresses is a precious asset--one just needs to know how to sell email effectively.
Austin, TX (PRWEB) September 19, 2013
When selling email, it's important to realize that one's success, in terms of revenue, is dependent on the number of email addresses one has. However, advertisers often don't realize how valuable email addresses are and feel like they shouldn't have to pay for the privilege to reach out to these email addresses. However, a database of email addresses is a precious asset—one just needs to know how to sell email effectively. Here, Shweiki Media Printing Company teams up with Ryan Dohrn, founder of Brain Swell Media and 360 Ad Sales, to present a free webinar on selling email.
How to Differentiate One's Business From Competitors
When it comes to email, the first step is learning how many email addresses one has compared to their competitors. If one has more, it's important to sell that, promote the fact, and know the facts to prove it.
One way to do this is through a one sheet that shows advertisers a clear representation of one's email strengths. If one has less email addresses than their competitors, they still have strengths to promote. There's a good chance that the demographic reader of the print magazine, the e-newsletter and the website are going to be the same, but that doesn't mean they are the same person. What it does mean is that one has an expanded audience.
One thing that one should consider is that on a sales level, the process of selling print and selling an e-newsletter are very similar, and any salesperson who is seasoned in selling print advertising can pitch virtually the same benefits to the potential email advertiser, except with an expanded or streamlined twist.
Point of Purchase
The greatest advantage an email database service can bring to advertisers is the ability to set the user up one step away from a point of purchase. Many businesses today are striving to promote a message online through one forum, only to lead the viewer back to one's website (where revenue is gained). Email is one of the few platforms still available where (after one has opened the message) the promotional message is purely focused (without any other noise competing for attention), resulting in a higher CTR.
E-Newsletter Statistics
One can consider the following…

56% of recipients of permission-based email said they were more likely to make purchases from the sender
52% said they had a more favorable opinion of the company that sent them email because of the communications they receive
48% of respondents reported feeling more loyal toward the products as a result of receiving permission-based emails
63% of those who receive permission-based email from retail companies said they want to receive personalized content based on their website activity and past purchases
88% reported downloading or printing coupons
79% clicked a link in an email to learn more about a particular service, product, or promotion
75% of respondents reporting purchasing a product online as a result of permission-based email
67% reported purchasing a product offline
85% said they liked receiving email from companies they had registered with
More than one-half saved the messages for later review, with females being even more likely to save their messages (60%) over males (49%)
The bottom line of email and e-newsletter promotion is that advertisers sell more product when their message is amplified. Email, while a dinosaur in Internet terms, is still one of the most effective tools for receiving and sharing messages. After all, if email didn't work, spammers would be out of business. (And once one has made their push selling email, they can also look into selling social media as well!)
Click here to watch the webinar now
Shweiki Media's mission has always been to help publishers improve by providing the most profitable, hassle-free printing experience possible. This includes guaranteeing the highest quality product, exceptional customer service and on-time delivery--whether printing magazines, flyers or anything else.
As a printer and publisher, Shweiki Media also believes that this hassle-free experience includes making their clients better. Utilizing relationships with industry experts, Shweiki Media strives to educate clients and help them thrive in the exciting world of publishing--while having lots of fun along the way!
For more great info from and about Shweiki Media, please check out shweiki.com, follow us @ShweikiMedia and "like" us at Facebook.com/shweikimedia.