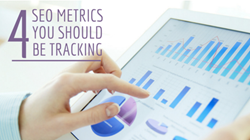 Recently, there has been a huge push in PR and marketing to show tangible ROI. SEO is all about the results that can be measured.
Austin, TX (PRWEB) April 07, 2016
Shweiki Media Printing Company teams up with expert Alicia Lawrence, the Content Coordinator for WebpageFX, to present a webinar on the four metrics one must track to understand and improve their site's SEO.
Recently, there has been a huge push in PR and marketing to show tangible ROI. SEO is all about the results that can be measured. This is an overview on four very important metrics one should be tracking to get an idea on how they are performing and perhaps, how to improve them. The webinar and accompanying blog can be found on shweiki.com.
1. Keyword Rankings: More Keywords, More Traffic, More Money
One should think strategically about their keyword choice. For instance, there is a page that ranks No. 1 on Google for dozens of keywords but none of those keywords get a lot of traffic or are relevant to the industry. Therefore, it does not actually produce anything of value. People who find that page will bounce quickly off the website. It is important to quickly optimize a site right and create content to rank with the right keywords in order to get quality traffic that will convert. One way to help with this is by creating a keyword mapping report to know what keywords to target. When creating content, it is important to spend time finding the right keywords that are feasible to rank for and apply to the audience. Once one knows their keywords, they can proceed in measuring how well they're doing.
2. Traffic: Organic, Referral & Social
The second SEO metric is traffic. As a result of ranking better, one's traffic will go up, which is great--as long as it is quality traffic.
Under Google Analytics, one can go to Acquisitions>All Traffic>Channels and see that it has a few main default channel groupings: organic search, direct, referral, social, paid search, and display.
Direct Traffic: Direct traffic is when people put a URL directly into their browser. Direct traffic also involves clicking links from an email or pdf document. If one is really curious about where their traffic is coming from, they can always create a tagged URL using Google's URL builder tool.
Paid Search: Traffic from paid search is beneficial to explore if one is running ads because it will help analyze how online ads are converting.
Organic Traffic: Organic traffic is traffic that is coming from a search engine.
Referral Traffic: This is traffic that is coming from another site. For example, people click links that are built into a blog post.
Social Traffic: Social traffic is traffic coming from social networks like Facebook or Pinterest.
Organic, referral and social traffic are the three that one should be checking regularly, and Google Analytics is a very useful tool for measuring keyword rankings. In order to see the keywords one is ranking for in Google Analytics, one can go to "Acquisition>All Traffic>Channels>Other, then click "Landing Page" to show keywords by a specific landing page. On the second dimension, one should justgo to "keywords" to see keyword rankings, although a majority of them will not be set or provided. In order to easily see the keywords Google Analytics provide, one can go to Advanced Filter and exclude any keywords that contain "not." By doing that, it should knock out those vague keywords that Google is providing. To view a specific page, one can use that page's URL.
Ahrefs is another great tool. One simply types in a specific domain and chooses organic keywords. This will show keywords that domain is ranking for, the volume and the results when it was last updated.
RankWatch is a keyword tool that allows one to easily keep track of keywords that are one's goal for ranking. The only bad thing about RankWatch is thatusers must actually find the keywords themselves, whether through a keyword mapping report or through another tool like Ahrefs. This is a paid tool but it gives a lot insight into how many spaces keywords are moving up or down.
SEMrush is a tool used to see how keywords rank organically. For this one, one simply enters URL and clicks "Organic Research" and it will show all the keywords that page is ranking for so far that SEMrush has catalogued in their system.
To read about the other two metrics, click here to watch the webinar and read the accompanying blog now!
Shweiki Media's mission has always been to help publishers improve by providing the most profitable, hassle-free printing experience possible. This includes guaranteeing the highest quality product, exceptional customer service, world-class communication, an on-time guarantee, and no surprises–whether printing magazines, postcards, flyers or anything else.
As a printer and publisher, Shweiki Media also believes that this hassle-free experience includes making their clients better. Utilizing relationships with industry experts, Shweiki Media strives to educate clients and help them thrive in the exciting world of publishing–while having lots of fun along the way!
For more great info from and about Shweiki Media, please check out our blog at shweiki.com/blog (and sign up for our free weekly expert webinars!), and subscribe to our Youtube Channel at youtube.com/shweikimedia. You can also follow us @ShweikiMedia and "like" us at Facebook.com/shweikimedia