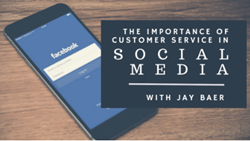 Answering a consumer complaint on social media may not fix the problem, but it will increase advocacy. It shows that a company cares about their customers, including those who were not satisfied.
Austin, TX (PRWEB) April 11, 2017
Shweiki Media Printing Company is excited to announce that they've teamed up with expert digital marketer Jay Baer of Convince & Convert to present a new webinar on the importance of social customer service and strategies for getting it right.
No One is Perfect at Customer Service
The first thing to note is that most people do not improve customer service because they assume that they are good at customer service.
When a person dives into their customer service skills, and the outcomes, they may quickly find out that they are not as keen as they thought. Also, many companies neglect the idea of customer service through social media.
Why Customer Service is Important in Social Media
Businesses have typically handled all customer complaints and interactions in a private environment. However, with the launch and popularity of social media, complaints and issues are taken to social media pages, where companies have little control over what is said.
Consumer interactions are taking place everywhere today, including rating and review websites, online forums, communities, and social media. Now, when a customer is negative, the world will know. Tens to hundreds of thousands of people can gather insight into a single company with one quick glance online.
Also, those who complain on social media do not expect that they will hear back or get an answer to their complaint. However, answering a consumer complaint on social media may not fix the problem, but it will increase advocacy. It shows that a company cares about their customers, including those who were not satisfied.
This is critical, especially with more consumers doing research online to find companies.
Baer also points out that sometimes the most valuable customers are ones that a company has fixed an issue with in the past. When a company shows that they care and that a client is not just a number, they are more likely to work with that company again in the future despite a bad experience the first go around.
The webinar concludes with five essentials for improving customer service on social media. For those essentials, and to view the webinar in its entirety, visit Shweiki's YouTube channel or Shweiki.com. Click here to watch now!
About Shweiki Media:
Shweiki Media's mission has always been to help publishers improve by providing the most profitable, hassle-free printing experience possible. This includes guaranteeing the highest quality product, exceptional customer service, world-class communication, an on-time guarantee, and no surprises– whether printing magazines, postcards, flyers or anything else.
As a printer and publisher, Shweiki Media also believes that this hassle-free experience includes making their clients better. Utilizing relationships with industry experts, Shweiki Media strives to educate clients and help them thrive in the exciting world of publishing–while having lots of fun along the way.
For more great info from and about Shweiki Media, please check out our blog at shweiki.com/blog (and sign up for our free weekly expert webinars!), and subscribe to our Youtube Channel at youtube.com/shweikimedia. You can also follow us @ShweikiMedia and "like" us at Facebook.com/shweikimedia
About Jay Baer:
Jay Baer is the world's most retweeted person among digital marketers. He is a renowned business strategist, keynote speaker and the New York Times best-selling author of five books who travels the world helping businesspeople get and keep more customers. Jay has advised more than 700 companies since 1994, including Caterpillar, Nike, Allstate, The United Nations and 32 of the FORTUNE 500. He is the founder of Convince & Convert, a strategy consulting firm that helps prominent companies gain and keep more customers through the smart intersection of technology, social media, and customer service. His Convince & Convert Media division owns the world's #1 content marketing blog, the world's top marketing podcast, and many other education resources for business owners and executives. The creator of five multi-million dollar companies, Jay is an active venture capitalist and technology advisor, as well as an avid tequila collector, and certified barbecue judge.