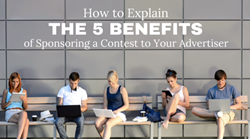 Contests give one the ability to activate potential customers by enticing them to engage with the brand on a deeper level--which is also the best vehicle for getting customer data.
Austin, TX (PRWEB) June 16, 2015
Advertisers want to see action. They want hot leads, foot traffic, sales, big email databases and–of course–lots of fans. They spend their marketing budget to achieve these goals and therefore they want a return of investment. The best way to accomplish these goals? That would be sponsoring contests, which serves as an investment with huge ROI potential! It all comes down to making the advertiser realize that.
That said, contests aren't just about offering sponsorships. They give one the ability to activate potential customers by enticing them to engage with the brand on a deeper level–which is also the best vehicle for getting customer data.
Here Shweiki Media Printing Company teams up with expert Matt Coen of Second Street Promotions Lab to present five talking points detailing how contests can benefit an advertiser.
So how does one explain the benefits of sponsoring a contest to their advertiser?
Here are 5 talking points to get started:
1. Contests Increase Brand Awareness and Engagement
Advertising can take two forms: branding and activation. Branding is setting customers' expectations for a product or service and differentiating it from others. Activation is motivating costumers to take a specific action, like entering a contest. Traditional advertising is great for awareness, but promotions like contests make advertising more effective by getting people involved in the site and encouraging social sharing.
2. Contests Grow Databases
Clearly, contests can help in many ways. They are one of the best ways to reach the marketing holy grail: capturing data on customers! Add an email or mobile opt-in (or both!) to the registration page.
3. Contests Drive Foot Traffic
Including a coupon or offer on the contest thank-you page gives advertisers the power to direct foot traffic to their website or physical location. One can get even more foot traffic by incorporating the online contest with an on-site event at location.
4. Contests Reach the Desired Audience
Whatever the advertiser's target market is, there's a contest for that. Sweepstakes are easy and appeal to everyone, while a more specific contest like an "Ugliest Yard Makeover" photo submission contest will attract a more targeted audience. The key is to understand the advertiser's objectives and figure out what contest will help achieve their goals.
5. Contests Generate Quality Leads
Adding survey questions like the one pictured below to a contest registration page gives one the ability to deliver qualified leads to the advertiser after the contest. For example, when Ford asked on a contest registration page if people were considering a new vehicle purchase, 12% of contest entrants indicated they were planning to buy a new car in the next six months!
Shweiki Media's mission has always been to help publishers improve by providing the most profitable, hassle-free printing experience possible. This includes guaranteeing the highest quality product, exceptional customer service, world-class communication, an on-time guarantee, and no surprises--whether printing magazines, postcards, flyers or anything else.
As a printer and publisher, Shweiki Media also believes that this hassle-free experience includes making their clients better. Utilizing relationships with industry experts, Shweiki Media strives to educate clients and help them thrive in the exciting world of publishing--while having lots of fun along the way!
For more great info from and about Shweiki Media, please check out our blog at shweiki.com/blog (and sign up for our FREE weekly expert webinars!), and subscribe to our Youtube Channel at youtube.com/shweikimedia.  You can also follow us @ShweikiMedia and "like" us at Facebook.com/shweikimedia.