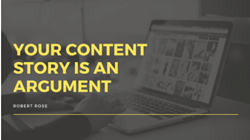 One of the hardest things for those in the B2B industry to wrap their minds' around is the fact that they should be storytellers. That's what content marketing is, after all – a story.
Austin, TX (PRWEB) July 05, 2017
One of the hardest things for those in the B2B industry to wrap their minds' around is the fact that they should be storytellers. That's what content marketing is, after all – a story.
Shweiki Media Printing Company is excited to announce that they've teamed up with Robert Rose, one of the best-known content creators around and the author of Experiences: The Seventh Area of Marketing, to present a new webinar on where to begin with content marketing and how companies can use their story as an argument in favor of their company.
In this webinar, Rose covers the following topics:

How businesses can use storytelling to differentiate themselves from competitors
Figuring out the argument
Looking at what the audience needs and marrying the business story to the audience's story
How to engage an audience through storytelling
And more!
The webinar is available on Shweiki's YouTube channel and, with an accompanying webinar, on shweiki.com. Click here to watch the webinar now!
About Shweiki:
Shweiki Media's mission has always been to help publishers improve by providing the most profitable, hassle-free printing experience possible. This includes guaranteeing the highest quality product, exceptional customer service, world-class communication, an on-time guarantee, and no surprises– whether printing magazines, postcards, flyers or anything else.
As a printer and publisher, Shweiki Media also believes that this hassle-free experience includes making their clients better. Utilizing relationships with industry experts, Shweiki Media strives to educate clients and help them thrive in the exciting world of publishing–while having lots of fun along the way!
For more great info from and about Shweiki Media, please check out our blog at shweiki.com/blog (and sign up for our FREE weekly expert webinars!), and subscribe to our Youtube Channel at youtube.com/shweikimedia. You can also follow us @ShweikiMedia and "like" us at Facebook.com/shweikimedia
About Robert Rose:
Robert currently serves as the Chief Strategy Advisor for the Content Marketing Institute and is also a Senior Contributing Analyst for the Digital Clarity Group. For more than 20 years, Robert has been helping marketers to tell their story more effectively. Over the last five years, Robert has worked with more than 500 companies, including 15 of the Fortune 100. He's provided marketing advice and counsel for global brands such as Capital One, Dell, Hewlett Packard, Microsoft, Thomson Reuters, Abbott Laboratories, The Bill & Melinda Gates Foundation and UPS. Robert's second book – Experiences: The Seventh Era of Marketing has been called a "treatise, and a call to arms for marketers to lead business innovation in the 21st century." His first book, Managing Content Marketing, spent two weeks as a top ten marketing book on Amazon.com and is generally considered to be the "owners manual" of the Content Marketing process.
Robert is also a featured writer and speaker at technology and marketing events around the world and is also the co-host of the podcast PNR's This Old Marketing, with tens of thousands of listeners across 100 countries, and consistently a top rated marketing podcasts on iTunes.. Robert is a Research Fellow with Coburn Ventures, a community of investment experts discussing and innovating current trends in technology. He is also an early-stage investor and advisor to a number of technology startups serving on the Board of Advisors of a number of startup companies, such as Akoonu, PublishThis, and DivvyHQ.