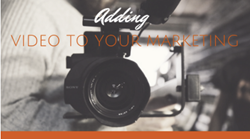 Companies should adopt a show-don't-tell mindset -- and a video is the best medium and the most effective way to get a message across.
Austin, TX (PRWEB) March 22, 2017
Most company websites are very similar: They boast about how great their people are, how great the workspace and atmosphere is, and how their "culture" helps them thrive. However, this is nothing unique, and any company can make this claim.
Instead, companies should adopt a show-don't-tell mindset -- and a video is the best medium and the most effective way to get a message across. And this doesn't just apply for company culture, but also products, services and more.
Shweiki Media Printing Company has teamed up with Marcus Sheridan from The Sales Lion -- a New York Times-featured company focused on content marketing and inbound sales advice -- to present a new webinar featuring strategies for working videos into the company culture and the best way to begin.
Sheridan and Shweiki cover and elaborate on the following:

Gathering a team
Investing in the video
Using the right type of video
And the importance - or unimportance - of perfection
The webinar is available on Shweiki's YouTube channel and, along with an accompanying blog, on shweiki.com. Click here to watch the webinar now!
About Shweiki Media:
Shweiki Media's mission has always been to help publishers improve by providing the most profitable, hassle-free printing experience possible. This includes guaranteeing the highest quality product, exceptional customer service, world-class communication, an on-time guarantee, and no surprises– whether printing magazines, postcards, flyers or anything else.
As a printer and publisher, Shweiki Media also believes that this hassle-free experience includes making their clients better. Utilizing relationships with industry experts, Shweiki Media strives to educate clients and help them thrive in the exciting world of publishing–while having lots of fun along the way!
For more great info from and about Shweiki Media, please check out our blog at shweiki.com/blog (and sign up for our free weekly expert webinars!), and subscribe to our Youtube Channel at youtube.com/shweikimedia. You can also follow us @ShweikiMedia and "like" us at Facebook.com/shweikimedia
About Marcus Sheridan:
In late 2009, Sheridan started his sales, marketing, and personal development blog—The Sales Lion, and has since grown The Sales Lion brand to be synonymous with inbound and content marketing excellence while being featured in multiple industry publications, including the New York Times, where he was referred to as a "web marketing guru." Today, when Sheridan is not giving riveting and passion-filled keynotes around the globe or consulting with businesses and brands, he generally finds himself on an adventure with his wife and four children.