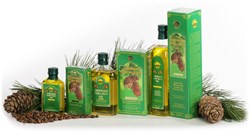 Pine Nut Oil consumption leads to a healthy body.
New York, NY (PRWEB) October 03, 2013
PineNutOil.org reminds everyone that a regular regiment of pine nut oil consumption helps lead to a healthy body, something that matters most when approaching the senior citizen years.
Some of the common health issues that reside in our senior population include problems with the stomach, digestion, ulcers and the overall gastrointestinal tract. The skin and hair succumb to old age, as well as the overall health of the body. Many of these issues can be addressed, handled and maintained with a regular regiment of pine nut oil.
Pine nut oil is a naturally produced oil that has been studied and found useful for many digestive related ailments. The oil has been used as a cure for gastrointestinal issues for years and studies have continued to prove its effectiveness and healing nature. The body's internal health is greatly impacted by the condition of the digestive organs. They play a paramount role in providing the barrier functions for the body in the presence of toxic substances. These organs need to be nurtured and cared for as old age approaches.
When in need a support program to boost overall gastrointestinal health, complete the following regiment using Siberian pine nut oil:

First month – Siberian pine nut oil, 1 tablespoon, 2 times a day; Siberian pine nut oil enriched with resin 5%, 1 teaspoon each night.
Second month – Siberian pine nut oil enriched with resin 5%, 2 teaspoons, 2 times a day; Siberian pine nut oil 1 tablespoon each day.
Third month – Siberian pine nut oil enriched with resin 10%, 1 teaspoon, 2 times a day.
Pine nut oil's healing elements come from the natural ingredients and nutrient rich characteristics that the oil has to offer. It contains a large quantity of polyunsaturated fatty acids, including a significant quantity of fat-dissolving vitamins E and F, which are known for their high level of physiological and anti-acidic properties. The oil encompasses phosphatidic phosphorous, which is very important to bodily health, as well phoshporous, calcium, magnesium, manganese, copper, zinc, cobalt and iodine. All of these elements combined are what assist in the natural healing that the oil offers to those suffering from digestive ailments that go hand in hand with growing older.
For more information about PineNutOil.Org, inquiries or purchases, please visit http://www.pinenutoil.org or call 248-218-0888.
About Siberian Pines:
The Siberian Pines Company has been a leading producer and supplier of Siberian pine nut oil since 2003. Siberian Pines produces high quality 100% cold-pressed pine nut oil and supplies it worldwide. They maintain the highest quality product and service by managing the process from the collection of Siberian pine nuts, to the production of the oil and delivering it to your front door.