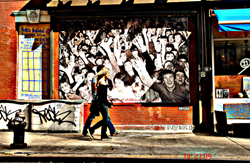 Las Vegas, NV (PRWEB) May 28, 2014
Daniel Siboni, world-famous fashion and street art photographer, will offer his images up for licensing in a worldwide exclusive event. Even though he has taken thousands of photographs of the street art movement in different countries, never before has his work been offered up for licensing. Licensing will give business owners the opportunity to use Siboni's popular art images on their products, such as apparel, furniture, wall art, electronics accessories, etc.
Siboni's work can be found at The Licensing Expo 2014 in Las Vegas. He will be featured in booth J41, where he will bring his collectibles, images and samples to show.
Street art has exploded in mainstream society in recent years. While some consider graffiti, or street art, vandalism, most others see it as a voice of the people. Recent images of street art have been recognized by art dealers and sold in galleries throughout the world. More and more people come to value street art as a democratic voice of the people.
Siboni started his career in interior design, providing new concepts for Paris' most famous restaurants and private homes. He became known for photographing fashion magazine covers and advertising campaigns all over the world for clients like Citizen K, Madame Figaro, Levi's, and Paris' largest department store, Le Printemps. He opened his first photo gallery in Los Angeles, and had a successful exhibition of his collection of photographs, "Urban City," in the U.S. Later, he opened Innerspace LA, a unique gallery space in Downtown Los Angeles. Additionally, Siboni opened the first US creative space dedicated to fashion and urban photography in Los Angeles, called Studio on 3rd . Currently, the artist is working on developing "Urbanik Art Gallery," a new gallery space in Tel Aviv, Israel.
The Licensing Expo 2014 will be held at the Mandalay Bay Convention Center in Las Vegas. The Expo connects brand owners with consumer goods manufacturers, licensees and retailers looking to make connections and explore new business ventures.
For more information, visit http://www.urbanbyds.com.