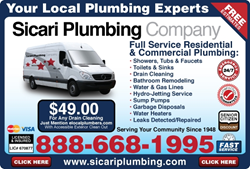 Sicari Plumbing is now offering residential and commercial customers $150 off of all water heater installations. Full details are available online at http://www.sicariplumbing.com.
La Canada, CA (PRWEB) May 07, 2014
Leading La Canada plumber Sicari Plumbing is now offering $150 discounts on water heater installations. Sicari Plumbing is the La Canada plumber that residents in the entire Los Angeles area have been turning to since 1976. Sicari Plumbing saves their customers headaches and stress by offering flat rate plumbing services. Unlike most plumbers who surprise customers with a huge bill after the job is done, Sicari Plumbing lets their customers know the final cost up front.
Most homeowners would agree that nothing is more frustrating than having a hot water heater go out. And not just because of the loss of hot water, with many plumbers charging between $700 and $2,000, replacing a water heater can turn into a major investment.
Most people take showers each and every day (sometimes even multiple times a day) without giving it much thought. Doing the dishes and doing the laundry are also tasks that most homeowners do on a daily basis without really thinking about. It is not until a homeowner's water heater goes out for the first time that they realize just how important water heaters are. Without a water heater, customers can say goodbye to hot showers, hot water to wash dishes, and just hot water in general. In fact, without a water heater homeowners would have to boil water on their stoves to get it hotter than a faucet provides. The truth is, most homeowners just do not have the time to boil enough hot water to give their child a bath or to wash the dishes. Thanks to water heaters there isn't a good reason for homeowners to have to wait around for enough hot water to accumulate.
Sicari Plumbing a licensed, insured, bonded, respected and reputable plumber in North Hollywood will make sure their customer's water heater never stops working. Whether a new one needs to be installed or an existing one just needs to be serviced, Sicari Plumbing continues to offer their customers in the larger portion of the Los Angeles area the most affordable prices in the plumbing industry.
Customers can see Sicari Plumbing's current specials by checking out their website at http://www.sicariplumbing.com and customers are alwaysencouraged to call Sicari Plumbing at 1-(888) 668-1995 to schedule a service call or if they have any questions. All customers are guaranteed low prices and unmatched services every single time.